Bird-Watching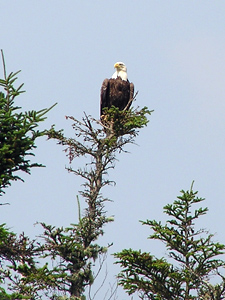 NPS/Meg Scheid
With its location along the St. Croix River in downeast Maine, Saint Croix Island International Historic Site offers a chance to see many different bird species.
Habitats
The site includes a short woodland trail situated along a narrow peninsula of mixed deciduous and evergreen trees, flanked by two small protected coves. In one cove, a perched culvert draining upland fresh water creates a waterfall effect that lures bald eagles in early morning. An apple orchard adjacent to the second cove creates another habitat for a variety of birds and wildlife. At the end of the trail, an interpretive shelter overlooks Saint Croix Island and the St. Croix River estuary, where brackish water and tides up to 25 feet invite a variety of birds year round. Mud flats form at low tide.
Bird Sightings
Confirmed bird sightings on the shore include
bald eagles;
osprey;
common loons;
buffleheads;
common goldeneyes;
black ducks;
a variety of gulls, including black-backed and herring gulls;
great blue herons;
belted kingfisher; and
semipalmated sandpipers.
Woodland species include
pileated and hairy woodpeckers;
black-capped chickadees; and
a variety of warblers and thrushes, including oven birds.
Along the shore, you may see a non-bird bonus—gray and harbor seals at low tide with the help of a spotting scope.
Bird Checklist - We need your help!
The park staff is collecting reports of confirmed bird sightings for inclusion in the site's first bird checklist. Your sightings are welcome! Ask a park ranger on site about informal bird talks offered during the summer season.
Did You Know?

There are no visible traces of the early settlement left on Saint Croix Island, today part of Saint Croix Island IHS. When the decision was made to move the expedition to Port Royal, most of the buildings were dismantled, put onto the ships and moved and erected at the new site.