Mission Concepción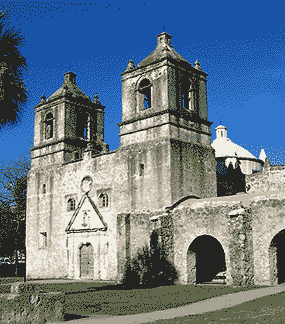 Mission Nuestra Señora de la Purisima Concepción de Acuña
This handsome stone church was dedicated in 1755, and appears very much as it did over two centuries ago. It stands proudly as the oldest unrestored stone church in America. In its heyday, colorful geometric designs covered its surface, but the patterns have long since faded or been worn away. However, original
frescos
are still visible in several of the rooms.
Click here for
more information
about Mission Concepción. It is located at 807 Mission Road, San Antonio, Texas, 78210.


Did You Know?
that along two of San Antonio's Spanish acequias (irrigation ditches), the San Juan Ditch Water Corp and the Espada Ditch Comp retain water rights first granted in 1731? While the park is the major stake holder, private shareholders continue to use the water on their fields and in farm tanks.