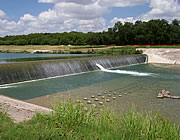 (NPS photo - Kodak DX3900)
The potential violent power of flood waters of the San Antonio River during heavy or extended rainfall prompted the U.S. Army Corps of Engineers to create a huge, straight river channel almost a half a century ago. Although soils near the mission sites have a great deal of clay content, the soil is relatively shallow over limestone bedrock. There are deep alluvial soils in the former river floodplain; the mission labores were located there. Aggressive hydrologic activity can erode isolated sections of banks of rivers, streams and acequias. Man-made cement retaining walls along the river and streams are testament to this hydrologic activity.
The San Antonio River Authority and the U.S. Army Corps of Engineers, in partnership with other organizations, are restoring 13 miles of the flood control channel to improve recreation and wildlife habitat. The park is actively engaged in this project and has projects to maintain and improve the ecology of park streams. Click on this link to learn more about the river improvement project.