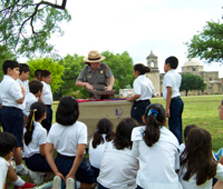 NPS
The National Park Service offers many educational opportunities for students to experience the natural and cultural history of the San Antonio Missions. The park is an ideal "outdoor classroom" in which to explore the heritage of our nation's Spanish Colonial past and appreciate the value of historic preservation.
Free program offerings by Park Rangers include curriculum-based activities that adhere to content standards and concepts as defined by Texas Assessment of Knowledge and Skills (TAKS).
may be reimbursed to Title 1 schools, need-based private schools, and homeschool groups from a donation from Los Compadres, the park's friends' group.
Reservations are required. To provide a quality experience for students and to prevent significant damage to historic resources, all schools and youth groups must register in advance with the park. There is no charge for any activities.