These Trail Conditions reports are the viewpoints of the submitters, whether park staff, volunteers, or visitors. Conditions can change rapidly in the mountains. Use these reports only as guidelines. Be prepared for varying weather and trail conditions.
Due to the September 2013 Flood, missing foot bridges, uneven trail surfaces, unstable slopes, falling trees due to soil moisture, rutted trails, damaged water bars and steps, standing water, difficult water crossings, and missing directional signs could be encountered. Most of Rocky Mountain National Park is designated wilderness, where self-reliance and adventure are expected. Hikers should be prepared to take responsibility for their own actions; search and rescue may be delayed. Be prepared to stay overnight even if you are a day hiker. Hiking poles may be helpful on uneven trails. Route finding skills may be required. Carry a map and compass and other backcountry travel essentials. Hike at your own risk.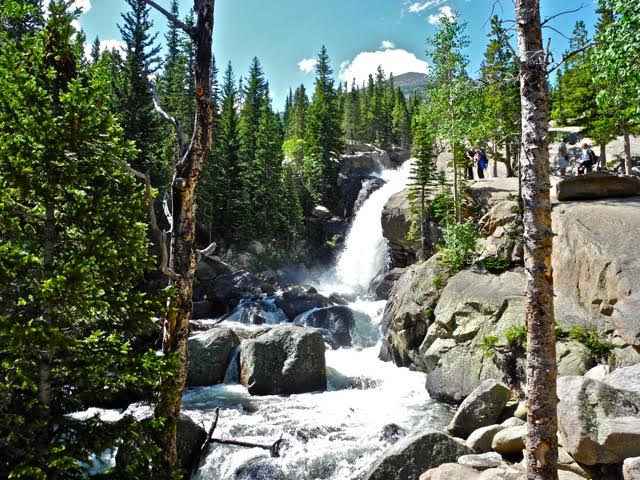 NPS/Jon Olsen
Enjoy one of the many hikes in Rocky!
A great many of the visitors to Rocky Mountain National Park hike the variety of scenic trails. There are many outstanding opportunities to hike, snowshoe, ski or ride during the winter on one of Rocky's trails. You can stop by a park visitor center to obtain current conditions and recommendations. Remember, safety is your responsibility.
What's your trail conditions report? Please email e-mail us, call the Information Office, 970-586-1206, or stop by a park visitor center.
Trail conditions reports help everyone. We need them year-round, and this spring it's more important than ever as hikers encounter possible impacts from last fall's flood. Thanks very much for your report!

NPS/R. Williams
Trail: Longs Peak
For current conditions, check the Longs Peak Conditions Report.
Trail: September 2013 Flood Damage
For current trail conditions as a result of the September 2013 Flood, please visit Flood Impacts and Closures.
Trail: Crater Trail
The trail will remain closed for the remainder of 2014. The park is considering closing it permanently - read more.
Below are some pictures of recent hiking
NPS/Jon Olsen

Left - NPS/Jon Olsen
Right - NPS/Bonnie Beach
6/30/15
Fern Lake/ Odessa Lake via Bear Lake TH
Fern/Odessa trail is very passable.About 1.5 miles after the cutoff from the Flattop trail, there is some snow to cross and a lot of water running down the trail.However there is nothing that a hiker would have trouble with.There is still snow off and on the trail as one approaches the Lake Helene cutoff and still a good deal of snow pack on the Lake Helene trail, however once again—not enough to bother a hiker who wanted to see Helene.
As for the large snow fields below the Lake Helene cutoff, they are still in evidence, but much diminished.We crossed all three snowfields with no problem and no traction devices.We did have hiking poles and were wearing good boots which kept our feet dry, but one could probably do this in gym shoes as well.Trout were spawning at Fern Lake, and the trail from there to the trailhead was pretty dry and dusty.
By Volunteer
6/29/15
Flattop Mountain
The Flattop Mountain trail is essentially clear and dry from the Bear Lake trailhead to the livestock hitch rack located a couple hundred vertical feet below the summit of the mountain (total distance 4.4 miles, 2,850 vertical feet).About 75-100 yards of the usual snowfield from the hitch rack to the summit remains.It is a low angle snowfield and does not require any special equipment.From Flattop Mountain to the summit of Hallett Peak, the footpath is clear and dry (total distance 0.6 mile, 400 vertical feet).The major requirements are good footwear, plenty of water, and attentiveness to the weather.
By Volunteer
6/29/15
Glacier Gorge, Alberta Falls, Lake Haiyaha and Bear Lake (Loop Trip)
With the exception of about 15 feet, the entire route is snow free and with a couple exceptions is dry. This hike can be done starting at Glacier Gorge or if the hiker prefers from Bear Lake, which makes for more downhill travel. This can also be done as a loop hike from either starting point and gives one a wide variety of mountain scenery with lakes and a waterfall. With the shuttle buses running daily, the hiker can start or end the trip at Glacier Gorge or Bear Lake. If the starting point is Glacier Gorge take the trail to Alberta Falls then continue to the Loch/Mills Junction. At that point take the trail to Lake Haiyaha then on to the trail junction near Dream Lake and from there down to Bear Lake. The hiker can continue on to Glacier Gorge from Bear to make this a true loop. The hiker can also do some variation on the loop like a side trip to Mills Lake or The Loch. Just over two weeks ago some of this route was covered by snow but with rapid melting the whole route is 95% dry.
Equipment Needed:
Rainwear (afternoon showers are typical)
Sun protection
Water (remember to hydrate often)
By Volunteer

6/29/2015
Over the Divide –Flattop to Tonahutu
Visitors have reported that the trip to the Tonahutu from Flattop was not easy, was more difficult with the snow than they felt comfortable. Decided not to go back via N Inlet. Steep, icy, rocks at bottom of snow.
By Visitor
6/29/2015
Lawn Lake and the Saddle
Trail to Lawn Lake is snow free. Some mud 1/2 mile before reaching lake. Trail to Crystal Lakes is muddy, and a few short snow fields to cross. Lake is 20% ice free. Visitors reported going up to the Saddle was doable, but had to cross several larger snowfields.
By Visitor
6/28/2015
Never Summers - Skeleton Gulch
Trail is great to the Grand Ditch. The bridge over the ditch is fine. The next bridge on the trail to Skeleton Gulch is out. Water is very high and running over the bridge.
By Visitor
6/26/2015
Fern Lake
Snow free except for a small snowbank just as you arrive at the lake. Fern Falls has a high volume of water coming over it. Other hikers said there were several patches of very slippery snow on the trail to Odessa, and that the trail to Spruce lake is now free of snow.
By Volunteer
6/25/2015
Sky Pond
Snow line starts about 0.5 miles past the Loch. Patchy until a snowfield just before Timberline Falls, which is still several feet deep. The snow is plenty packed and doable with just boots. No gaiters needed. Traction devices and trekking poles could be useful, but not required. Snow still plenty packed in the afternoon.
By Park Ranger
6/24/15
Ute Trail from Upper Beaver Meadows
Visitor reports that as of yesterday the entire Ute trail from Upper Beaver Meadows to the top at Trail Ridge road is snow free.
By Visitor
6/23/2015
Thunder Lake
Took detour trail through backcountry campsites. A few wet, muddy spots and trees across the trail, but still easily passable. Patches of snow about a mile or less before the lake, easy to navigate around without traction devices, although hiking poles were nice to have. Still a lot of snow and wet, marshy areas around the lake.
By Visitor
6/22/2015
Mummy Pass Trail to Mirror Lake.
Trail clear of snow, water up to Mirror Lake/Mummy Pass trail junction. Only occasional muddy spots and small water streams to that point. From trail junction, patchy snow (up to 3' drifts) with some standing water, but passable without snowshoes up to Mirror Lake. Mirror Lake still over 85% iced over, some clear water near outlet, with puddles developing in ice sheet.
By Park Ranger
6/21/2015
CRD/Red Mountain Trail
Currently the Red Mountain Trail is dry and accessible.The snow is all gone and wet conditions due to snow melt are quickly drying up.
By Park Ranger
6/21/2015
Colorado River Trail
There is a section trail flooded about 1 mile from the TH. The flooded section is about 100m long and around 15 inches deep.There is an informal trail now up and around this section which is quite muddy.
By Visitor
Falling trees are ever-present hazards when traveling in the forest. Be aware of your surroundings. Dead trees can fall without warning!