Trail Conditions Reports
These Trail Conditions reports are the viewpoints of the submitters, whether park staff, volunteers, or visitors. Conditions can change rapidly in the mountains. Use these reports only as guidelines. Be prepared for varying weather and trail conditions.
Due to recent flooding, expect to encounter missing foot bridges, uneven trail surfaces, unstable slopes, falling trees due to soil moisture, rutted trails, damaged water bars and steps, standing water, difficult water crossings, and missing directional signs. Most of Rocky Mountain National Park is designated wilderness, where self-reliance and adventure are expected. Hikers should be prepared to take responsibility for their own actions; search and rescue may be delayed. Be prepared to stay overnight even if you are a day hiker. Hiking poles may be helpful on uneven trails. Route finding skills may be required. Carry a map and compass and other backcountry travel essentials. Hike at your own risk.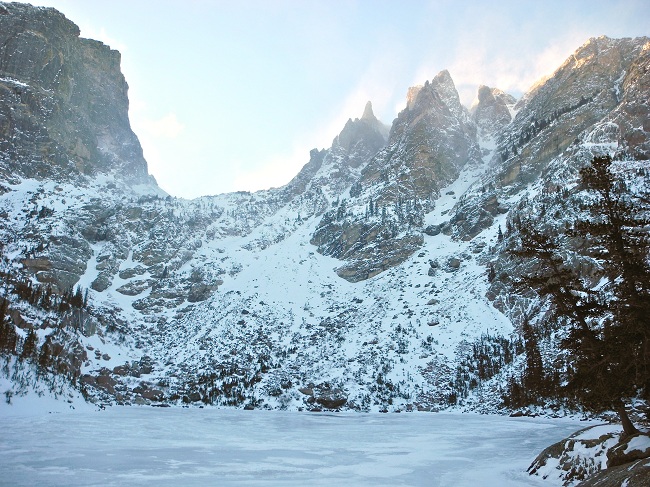 NPS/Jon Olsen
Enjoy one of the many hikes in Rocky!
A great many of the visitors to Rocky Mountain National Park hike the variety of scenic trails. There are many outstanding opportunities to hike, snowshoe, ski or ride during the winter on one of Rocky's trails. You can stop by a park visitor center to obtain current conditions and recommendations. Remember, safety is your responsibility.
What's your trail conditions report? Please email e-mail us, call the Information Office, 970-586-1206, or stop by a park visitor center.
Trail conditions reports help everyone. We need them year-round, and this spring it's more important than ever as hikers encounter possible impacts from last fall's flood. Thanks very much for your report!
Trail: Longs Peak
For current conditions, check the Longs Peak Conditions Report.
Trail: September 2013 Flood Damage
For current trail conditions as a result of the September 2013 Flood, please visit Flood Impacts and Closures.
Trail: Crater Trail
The trail will remain closed for the remainder of 2014. The park is considering closing it permanently - read more.
Below are some pictures of recent hiking
12/18/14
Bear Lake to Lake Helene
The trail from Bear to about 1/2 mile from Helene is well packed. There has been a number of snowshoers and skiers on this trail and is very easy to follow. The winter route over Two Rivers Lake and down to Helene is not obvious and drifting does cover most tracks that might exist. The last 1/2 mile is the most challenging with a mix of wind pack and soft drifts to arrive at Two Rivers Lake and then on to Lake Helene. This line is moderately difficult and does require some knowledge of the terrain. There were no tracks on the summer trail line but it could be followed if desired. Going beyond Helene down to Odessa has some serious route problems with steep snow across the summer trail. Best to make Helene the final destination.

Equipment Recommended:
Snowshoes or skis for the majority of the trip.
Sturdy boots and traction devices could be used as far as the last 1/2 mile of the trip, then snowshoes or skis needed.
Trekking Poles will be very helpful.
Wind will be a factor for last part of this trip so appropriate clothing is very necessary.
By Volunteer
12/15/14
Bear, Nymph, Dream & Emerald Lakes
There is snow the entire length of this trip. Relatively little new snow has fallen so this route is hard packed all the way. From Nymph Lake one can use the summer trail or the winter route which starts from the south side of Nymph and connects to the summer trail just before reaching Dream Lake. The ice on Dream Lake is solid so the visitor can hike, snowshoe or ski across the lake to connect to the packed trail going up to Emerald. This packed trail is easy to follow. At this time of year by late morning there is no sun on Dream or Emerald Lakes and the possibility of windy conditions is common

Equipment Recommended:
Good sturdy footwear and warm socks
Warm and wind resistant clothing
Traction devices and/or trekking poles are very helpful
Snowshoes also work well on this trip
By Volunteer
12/15/14
Dream Lake Overlook (on Flattop Mountain trail)
Very good snowshoeing today will all the weekend snow - looked like 12 - 18 inches of new snow. Snowshoes and poles were needed.
By: Visitor
12/11/14
Glacier Gorge to Mills Lake and Jewel Lake
Trail is hard packed all the way, very identifiable. Trail is soft in the afternoon and freezes overnight, making the trails icy in the morning. We only walked on the edges of Mills Lake. Used traction devices and poles.
By Volunteer
12/4/14
Glacier Gorge to The Loch
Went up the winter and there are 3 or 4 place where there are small holes, but easy to cross. Used boots and microspikes plus my poles.From the junction, used the summer trail and it is all packed out.
By Visitor
12/3/14
East Portal to Glacier Basin Campground and Boulder Brook trail
Trail from East Portal to Glacier Basin campground has about 25% soft snow cover (trace to 6") From campground to Boulder Brook trail, 99% snow cover (1-8 inches), better with traction devices or snowshoes than boots only.
By Visitor
Falling trees are ever-present hazards when traveling in the forest. Be aware of your surroundings. Dead trees can fall without warning!