NOTE - Spring conditions exist on all the trails now - snow becomes soft and sticky and lakes are unsafe to walk on. USE CAUTION WHEN HIKING.
These Trail Conditions reports are the viewpoints of the submitters, whether park staff, volunteers, or visitors. Conditions can change rapidly in the mountains. Use these reports only as guidelines. Be prepared for varying weather and trail conditions.
Due to the September 2013 Flood, missing foot bridges, uneven trail surfaces, unstable slopes, falling trees due to soil moisture, rutted trails, damaged water bars and steps, standing water, difficult water crossings, and missing directional signs could be encountered. Most of Rocky Mountain National Park is designated wilderness, where self-reliance and adventure are expected. Hikers should be prepared to take responsibility for their own actions; search and rescue may be delayed. Be prepared to stay overnight even if you are a day hiker. Hiking poles may be helpful on uneven trails. Route finding skills may be required. Carry a map and compass and other backcountry travel essentials. Hike at your own risk.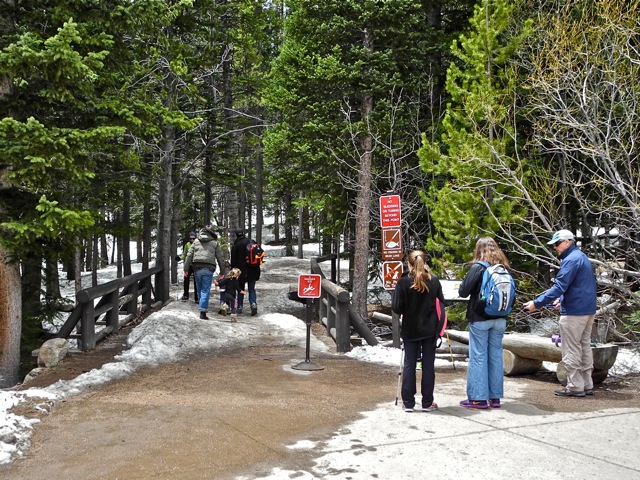 NPS/Jon Olsen
Enjoy one of the many hikes in Rocky!
A great many of the visitors to Rocky Mountain National Park hike the variety of scenic trails. There are many outstanding opportunities to hike, snowshoe, ski or ride during the winter on one of Rocky's trails. You can stop by a park visitor center to obtain current conditions and recommendations. Remember, safety is your responsibility.
What's your trail conditions report? Please email e-mail us, call the Information Office, 970-586-1206, or stop by a park visitor center.
Trail conditions reports help everyone. We need them year-round, and this spring it's more important than ever as hikers encounter possible impacts from last fall's flood. Thanks very much for your report!
Trail: Longs Peak
For current conditions, check the Longs Peak Conditions Report.
Trail: September 2013 Flood Damage
For current trail conditions as a result of the September 2013 Flood, please visit Flood Impacts and Closures.
Trail: Crater Trail
The trail will remain closed for the remainder of 2014. The park is considering closing it permanently - read more.
Below are some pictures of recent hiking

NPS/Jon Olsen

NPS/Jon Olsen
5/31/2015
Ypsilon Lake Trail
Bridge over Roaring River still out. Extreme caution, but logs make crossing possible. No snow until ridge. Deep snow begins. Very soft, snowshoes needed. 5 to 6 feet deep, trail difficult to follow, tracks in many directions. Lake not found.
By Visitor
5/31/2015
Finch Lake TH to Wild Basin TH
Little to no snow from trailhead to first junction. Beyond that, 3-4 ft snow drifts covering 60% of the trail. Washed out area between first junction and cascades difficult to traverse. Carrying kids not advisable. Postholing in some areas, gaiters and trekking poles recommended.
By Visitor
5/30/2015
Sky Pond
Packed snow conditions to the falls. Snowshoes not needed until above the falls. Falls are icy but doable.
By Visitor
5/30/2015
Black Lake from Glacier Gorge
Started this trail early, but still had to go around an avalanche that occurred even earlier. Deep snow above Jewel Lake; snowshoes required after this. Very deep snow. Avalanche danger seemed high, especially after melting occurs later in the day.
By Visitor
5/30/2015
Wild Basin to Finch Lake
Trail above Calypso Cascades has snow in places but passable. There are 2 washouts on the trail to Finch after Calypso which require going around rock piles. Tricky going around these. Visitor was able to reach Finch Lake but was uncomfortable with the washout detours.
By Visitor
5/30/2015
Long's Peak area
Upper side of Moore Park buried in snow, lower side 70% covered.Composter now open and ready for use.Could not make it to Goblin's Forest or Battle Mountain, assumed to be covered in snow.
By Park Ranger
5/28/2015
Wild Basin
Improved Trail to Calypso snow free. All sites free of snow up to N. St. Vrain except Siskin.
By Park Ranger
5/28/2015
Glacier Gorge
Snow line about at fire trail. Andrews creek sign covered in snow.
By Park Ranger
5/27/15
North Inlet Trail
North Inlet trail is negotiable to the North Inlet Junction. Some snowy areas, but negotiable in good boots.
5/27/15
East Inlet Trail
East Inlet trail is mostly free of snow to approximately 1/2 mile from Lone Pine Lake.
5/27/15
Bear Lake to Nymph, Dream & Emerald Lakes
As the weather warms there is a lot of melt going on but still significant snow above 9,500 feet. The trail from Bear to Nymph is about 70% clear with just a few patches of snow. At Nymph there is a well defined track in the snow around the right side of the lake which is now open water. The trail is then clear along the far side of Nymph but as the it starts to gain altitude the hiker will encounter packed, wet snow conditions. The remainder of the way to Dream Lake the trail has areas of packed slick snow interspersed with open trail.
Once at Dream Lake there is a well packed snow trail around the right (north) side of the lake which is wet and sloppy in some areas. This trail leads all the way up to Emerald Lake. The route is 95% snow, much of which is getting soft and very slick. The hiker should be aware of areas with some deep postholes. Areas around rocks and trees are becoming very soft and are not stable. These areas should be avoided. The last 30 yards down to Emerald Lake is now clear of snow, but the lake remains 98% ice covered. The ice is very unstable and should not be walked on.
Remember: Walking down slick trails is more difficult than going up.
Equipment Needed:
Good boots or hiking shoes. Light slicked soled shoes are not a good choice
Traction devices are extremely helpful and trekking poles give added stability on slick snow
Weather conditions can change rapidly. Expect wind, rain, snow or bright sun in the course of this hike
Extreme care should be used if carrying small children because of slick and wet trail condition


5/24/15
Alberta Falls (from Glacier Gorge or Bear Lake)
Alberta Falls is now totally open so the hiker gets a full view of the high water volume coming over the falls.

From Glacier Gorge--The popular hike to Alberta Falls is a mix of open trail and packed snow. There are areas of open and wet trail then sections of packed wet snow on the trail. This mixed pattern is repeated over and over again along the .9 mile hike to the falls. From Glacier Gorge Trailhead this trip roughly 90% up hill.
From Bear Lake--The hiker can get to Alberta Falls from the Bear Lake Trailhead and the distance is basically the same. From Bear Lake the first 1/4 mile is snow packed and slick. The next 1/4 mile is clear but wet. This trail meets the Glacier Gorge Trail about 1/2 mile down hill from Bear Lake then continues to Alberta Falls along the same route as from the Glacier Gorge Trailhead . The conditions are as previously stated--a mix of open trail and packed snow. (Note: If this route is used the hiker has to go back up hill to Bear Lake for 1/2 mile.)
Equipment Needed:
Sturdy hiking boots or shoes--something that does not have slick soles and is somewhat water resistant
Trekking poles are very helpful
Traction devices help with stability on the packed snow areas

5/23/15
Bear Lake to Hollowell Park
Trail around Bear Lake to Bierstadt Trail junction is very slick. Traction devices needed. Mostly snow from Flattop trail junction, then all snow from the high point on the Bierstadt trail almost to Mill Creek Basin. Trail was easy to follow w/ no postholing until past first junction w/ Bierstadt trail. Beyond this to the second Bierstadt trail junction, snow was soft. Recommend traveling it after it has been exposed to sun. Less snow on the trail closer to Mill Creek Basin, but it becomes a stream of water down the trail.
5/18/2015
Shadow Mtn Lookout Tower
Trail is clear of snow to the fire tower, with the exception of minor snow patches.
By Park Ranger
5/18/2015
Colorado River Trail
Patchy snow from trailhead, becoming snow covererd after 1-2 miles. Packed snow, traction devices and hiking poles recommended. Some post holing;advise caution.
By Visitor
5/17/2015
Twin Sisters
Packed snow 2 to 3 feet deep. gaiters and traction devices recommended. With afternoon melt, it does get slippery.
By Visitor
5/16/15
Cub Lake Loop
No snow on the trail. Muddy areas w/ stream running through trail. Able to stay on trail without getting wet boots, just muddy soles. Lots of spring wildflowers.
5/16/2015
Longs Peak Trail
Winter trail is well-packed to Chasm Junction. Snowshoes needed beyond that. One avalanche in the north face area. Two more small avalanches reported by visitors.
By Volunteer

5/16/2015
Estes Cone from Longs Peak Trail
Trail is well-packed the entire way. No need for snowshoes.
By Volunteer
5/15/2015
Wild Basin unimproved trail
Wild Basin main trail mostly clear of snow with some large puddles and some running water up to "No Name Bridge" at 1.4 miles from trailhead. North-facing trail toward Calypso Cascades appears
to be snow covered.
Unimproved trail toward Thunder Lake Trail is equal parts deep, soft snow covered, mud and running water. Difficult travel.
Pine Ridge backcountry campsite is snow-free.
Tahosa backcountry campsite is snow-free. Sites above these are difficult to access due to snow, mud and running water. Sites are snow covered.
By Park Ranger

5/14/2015
Green Mountain to Big Meadows
Muddy with patchy snow; becoming snow covered (slushy icy) after 1.5 miles. Staying on packed snow is recommended; rotten soft snow; standing water in places. Traction devices and hiking poles are recommended.
By Visitor
5/12/2015
Fern Lake
There is no snow until just below Fern Falls, then patchy until the switchbacks above the falls. Then the trail is snow covered. Hiking poles helpful, but boots alone okay to the falls.
By Volunteer
5/12/2015
Bear Lake
Trail around the lake is muddy in spots, clear and dry in spots, and covered with 2-3 ft of packed snow in other spots. Traction devices very helpful, but could be done with boots alone.
By Park Ranger
5/11/2015
Glacier Gorge to Mills Lake and The Loch
Some bare patches, but mostly snow-covered. Last part of the trail to The Loch still goes up the drainage. Trail was icy. Traction devices and hiking poles useful, but boots alone okay.
By Volunteer
Falling trees are ever-present hazards when traveling in the forest. Be aware of your surroundings. Dead trees can fall without warning!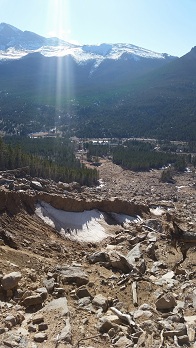 NPS/Austin Tumas
3/30/15
Twin Sisters
Mixed ice and packed snow along with dry spots.Because of the September 2013 flood, hard to find trail in some spots and we had to make our own trail. Pure ice near the summit.Used traction devices. Also very windy at the top, so bring extra layers.
By: Volunteer