Impacts from September 2013 Flood - Old Fall River Road, Alluvial Fan and Trails

Select this link to learn More »
Trail Conditions Reports
These Trail Conditions reports are the viewpoints of the submitters, whether park staff, volunteers, or visitors. Conditions can change rapidly in the mountains. Use these reports only as guidelines. Be prepared for varying weather and trail conditions.
Due to recent flooding, expect to encounter missing foot bridges, uneven trail surfaces, unstable slopes, falling trees due to soil moisture, rutted trails, damaged water bars and steps, standing water, difficult water crossings, and missing directional signs. Most of Rocky Mountain National Park is designated wilderness, where self-reliance and adventure are expected. Hikers should be prepared to take responsibility for their own actions; search and rescue may be delayed. Be prepared to stay overnight even if you are a day hiker. Hiking poles may be helpful on uneven trails. Route finding skills may be required. Carry a map and compass and other backcountry travel essentials. Hike at your own risk.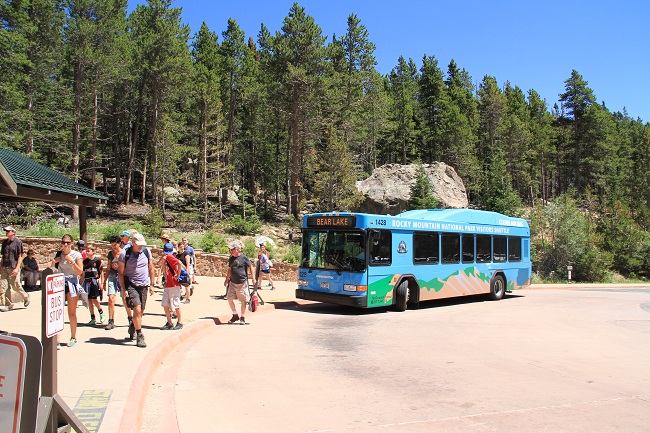 NPS
Enjoy one of the many hikes in Rocky!
A great many of the visitors to Rocky Mountain National Park hike the variety of scenic trails. There are a lot of hikers in the summer, and with 350 miles of trails, many outstanding opportunities are available. You can stop by a park visitor center to obtain current conditions and recommendations. Remember, safety is your responsibility.
What's your trail conditions report? Please email e-mail us, call the Information Office, 970-586-1206, or stop by a park visitor center.
Trail conditions reports help everyone. We need them year-round, and this spring it's more important than ever as hikers encounter possible impacts from last fall's flood. Thanks very much for your report!
Trail: Longs Peak
Date: 8/1/14
By: Park Ranger
4-5" snow on the summit of Longs Peak. 2-3" verglas (thin layer of ice) on the Homestretch. Intermittent ice and snow on the Narrows. Boots and crampons recommended.
Trail: Ute Trail
Date: 7/24/14
By: Visitor
Hiked up from Upper Beaver Meadows Trailhead to Trail Ridge Road parking area. No snow on trail. Good hiking boots sufficient.
Trail: Mt. Ida
Date: 7/23/14
By: Visitor
From visitor and staff reports, the trail from Milner Pass is fine. People have been doing it without trouble for a couple of weeks. In early July there was a section of snow near Milner Pass about 250 feet long. We assume it is clear now.
Trail: Thunder Pass
Date: 7/23/14
By: Visitor
Trail conditions perfect. Some wet areas and a small patch of snow easily navigated.
Trail: Boulder Grand Pass
Date: 7/22/14
By: Visitor
Clear of snow.
Trail: Bluebird Lake
Date: 7/22/14
By: Visitor
Large snowfield just before the lake. It is passable with boots only.
Trail: Granite Falls/Ptarmigan Lake
Date: 7/21/14
By: Visitor
Hiked from Bear Lake to Granite Falls to Ptarmigan Lake and back to Bear Lake. Conditions were excellent. However, in some places along the trail we encountered snow 8" to 12" deep. No issues but hikers should take poles and perhaps gaiters.
Trail: Lion Lakes
Date: 7/19/14
By: Visitor
Lion Lake #1: Very little snow at lake, easily crossed or bypassed. Snow on route to Lion Lake #2 but passable. Trio Falls is starting to flow nicely.

Trail: North Inlet
Date: 7/18/14
By: Park Ranger
The recent rains have depleted the snowfield above July Backcountry Site. It is now a problem free area.
Trail: Ouzel Falls Bridge
Date: 7/17/14
By: Park Ranger
The bridge at Ouzel Falls in the Wild Basin area will not be completed this summer. An engineering problem will result in the bridge not being completed until sometime next year.
Trail: Bear Lake to Fern Lake Trailhead
Date: 7/17/14
By: Volunteer
There is considerable snow covering one section of the trail between the Flattop Trail Junction and Lake Helene. First there is running water and snow on this section of trail and then a very large snowfield. The snowfield is easy to cross but hikers need to watch carefully to get back on the official trail. There are two more snowfields between Lake Helene and Odessa. These are smaller but care must be taken since they are on steep slopes. Poles very helpful. From Odessa to Fern Lake Trailhead trail clear of snow!
Trail: Sandbeach Trail
Date: 7/16/14
By: Park Ranger
The Sandbeach Trail bridge at Hunters Creek has been replaced.
Trail: East Inlet Trail
Date: 7/16/14
By: Visitor
The winter avalanche debris below Lone Pine Lake has been cleared and travel to Lake Verna is now free clear of obstacles.
Trail: Haynach
Date: 7/14/14
By: Visitor
Haynach Lake is open. The snow around it is melting. Snow is patchy and deep in some areas. No uppdated report on the Haynach campsites.
Trail: Blue Lake
Date: 7/11/14
By: Volunteer
Between Black Lake and Blue Lake 2-3 small areas of snow and also marshy, muddy areas. Snow patches are packed, small and accessible. Many downed trees.
Trail: East Inlet Trail to Fifth Lake
Date: 7/9/14
By Visitor
Trail snow free to Fourth Lake! Travel is slightly difficult due to the unimproved nature of the trail and downed trees. After Fourth Lake, trail disintegrated into intermittent cairns following rocky slope. Right below Fifth Lake, two negotiable snowfields must be climbed on the left of the outlet stream to avoid snow bridges. Snow is soft in the afternoon and steps can be kicked in. Traction devices and snowshoes are not required. Travel to tarns above Fifth Lake mostly snowfree with the exception of two or three snowfields. However, these snowfields are not on a steep lsope and can be crossed with the assistance of poles.
Trail: Clark's Arrow Route
Date: 7/8/14
By: Park Ranger
A large landslide has occured on the west side of the saddle between Longs Peak and Meeker, just east of Keplinger's Couloir. This makes route finding difficult.
Trail: Tonahutu to Bear Lake
Date: 7/8/14
Tonahutu, Haynach and Timberline sites still have quite a bit of snow. Up to Haynach Lake trail is mostly snowfree, but water running on it. As you approach the lake, deep, soft snow. Above treeline on Flattop, very wet conditions. Yoiu will get wet. Some remaining snowfields. Coming down to Bear Lake there is still lots of snow on the trail/switchbacks. Waterproof boots, gators trekking poles recommended.
Trail: Never Summer Sites
Date: 7/8/14
By: Park Ranger
Sites are snowfree but very buggy. There is still significant snow in some of the cirques. The Hitchens drainage is passable but still has some snowfields.
Falling trees are ever-present hazards when traveling in the forest. Be aware of your surroundings. Dead trees can fall without warning!
Did You Know?

The oldest person to summit Longs Peak was Rev. William Butler, who climbed it on September 2, 1926, his 85th birthday. In 1932, Clerin "Zumie" Zumwalt summited Longs Peak 53 times.