Impacts from September 2013 Flood - Old Fall River Road, Alluvial Fan and Trails

Select this link to learn More »
Trail Conditions Reports
These Trail Conditions reports are the viewpoints of the submitters, whether park staff, volunteers, or visitors. Conditions can change rapidly in the mountains. Use these reports only as guidelines. Be prepared for varying weather and trail conditions.
Due to recent flooding, expect to encounter missing foot bridges, uneven trail surfaces, unstable slopes, falling trees due to soil moisture, rutted trails, damaged water bars and steps, standing water, difficult water crossings, and missing directional signs. Most of Rocky Mountain National Park is designated wilderness, where self-reliance and adventure are expected. Hikers should be prepared to take responsibility for their own actions; search and rescue may be delayed. Be prepared to stay overnight even if you are a day hiker. Hiking poles may be helpful on uneven trails. Route finding skills may be required. Carry a map and compass and other backcountry travel essentials. Hike at your own risk.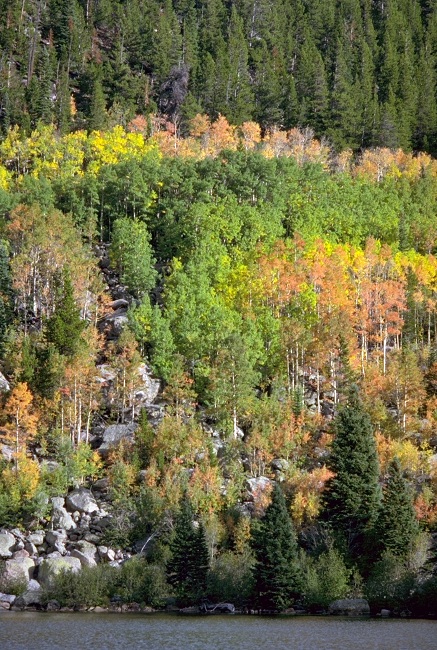 NPS
Enjoy one of the many hikes in Rocky!
A great many of the visitors to Rocky Mountain National Park hike the variety of scenic trails. There are a lot of hikers in the summer, and with 350 miles of trails, many outstanding opportunities are available. You can stop by a park visitor center to obtain current conditions and recommendations. Remember, safety is your responsibility.
What's your trail conditions report? Please email e-mail us, call the Information Office, 970-586-1206, or stop by a park visitor center.
Trail conditions reports help everyone. We need them year-round, and this spring it's more important than ever as hikers encounter possible impacts from last fall's flood. Thanks very much for your report!
Trail: Longs Peak
For current conditions, check the Longs Peak Conditions Report.
Trail: September 2013 Flood Damage
For current trail conditions as a result of the September 2013 Flood, please visit Flood Impacts and Closures.
Trail: Crater Trail
The trail will remain closed for the remainder of 2014. The park is considering closing it permanently - read more.
Trail: Flattop/Taylor Peak
Date: 9/20/14
By: Visitor
Trail from Bear Lake to summit of Flattop and Taylor Peak in good condition.
Trail: Ouzel Falls Bridge
Date: 9/19/14
By: Park Ranger
The bridge at Ouzel Falls in the Wild Basin area is out and will not be rebuilt this summer because of an engineering problem. The bridge will not be completed until sometime next year.

Falling trees are ever-present hazards when traveling in the forest. Be aware of your surroundings. Dead trees can fall without warning!
Did You Know?
Rocky Mountain National Park has a cool site for kids. What do you know about the park? The Web Ranger Challenge tests your knowledge! More...