Impacts from September 2013 Flood - Old Fall River Road, Alluvial Fan and Trails

Select this link to learn More »
Trail Conditions Reports
These Trail Conditions reports are the viewpoints of the submitters, whether park staff, volunteers, or visitors. Conditions can change rapidly in the mountains. Use these reports only as guidelines. Be prepared for varying weather and trail conditions.
Due to recent flooding, expect to encounter missing foot bridges, uneven trail surfaces, unstable slopes, falling trees due to soil moisture, rutted trails, damaged water bars and steps, standing water, difficult water crossings, and missing directional signs. Most of Rocky Mountain National Park is designated wilderness, where self-reliance and adventure are expected. Hikers should be prepared to take responsibility for their own actions; search and rescue may be delayed. Be prepared to stay overnight even if you are a day hiker. Hiking poles may be helpful on uneven trails. Route finding skills may be required. Carry a map and compass and other backcountry travel essentials. Hike at your own risk.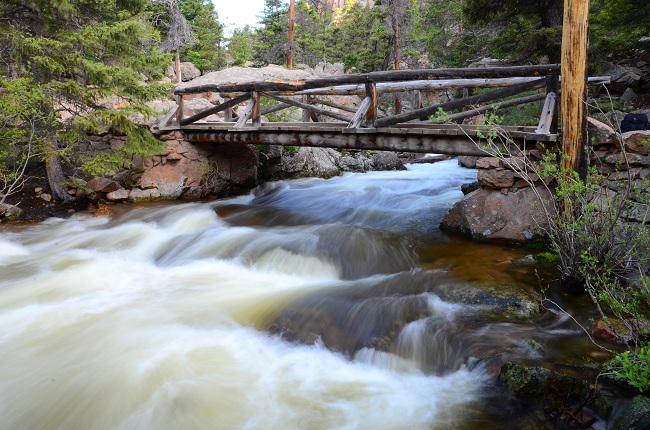 NPS/John Marino
Conditions are changing rapidly in Rocky!
As we continue to experience rapidly melting snow, expect snow to be crusty in morning, soft in the warmer afternoons. Many trails are wet and muddy now too. Waterproof, sturdy footwear is a must. Plus the use of hiking poles is super helpful to stabilize you in the soft snow, help you step through wet places, and step up or down waterbars or flood-eroded areas. Bring your own hiking poles! Use them like an extra set of arms and legs.
What's your trail conditions report? Please email e-mail us, call the Information Office, 970-586-1206, or stop by a park visitor center.
Trail conditions reports help everyone. We need them year-round, and this spring it's more important than ever as hikers encounter possible impacts from last fall's flood. Thanks very much for your report!
Trail: Blue Lake
Date: 7/11/14
By: Volunteer
Between Black Lake and Blue Lake 2-3 small areas of snow and also marshy, muddy areas. Snow patches are packed, small and accessible. Many downed trees.
Trail: Lake Helene
Date: 7/10/14
By: Volunteer
From Bear Lake trail mostly clear. One snowfield (less than 100 yards in length) to cross about 1.75 miles from Bear Lake on the way to Lake Helene.
Trail: East Inlet Trail to Fifth Lake
Date: 7/9/14
By Visitor
Trail snow free to Fourth Lake! Travel is slightly difficult due to the unimproved nature of the trail and downed trees. After Fourth Lake, trail disintegrated into intermittent cairns following rocky slope. Right below Fifth Lake, two negotiable snowfields must be climbed on the left of the outlet stream to avoid snow bridges. Snow is soft in the afternoon and steps can be kicked in. Traction devices and snowshoes are not required. Travel to tarns above Fifth Lake mostly snowfree with the exception of two or three snowfields. However, these snowfields are not on a steep lsope and can be crossed with the assistance of poles.
Trail: Keyhole Route Longs Peak
Date: 7/8/14
By: Park Ranger
Keyhole Route is icy and dangerous at the Homestretch.
Trail: Clark's Arrow Route
Date: 7/8/14
By: Park Ranger
A large landslide has occured on the west side of the saddle between Longs Peak and Meeker, just east of Keplinger's Couloir. This makes route finding difficult.
Trail: Tonahutu to Bear Lake
Date: 7/8/14
Tonahutu, Haynach and Timberline sites still have quite a bit of snow. Up to Haynach Lake trail is mostly snowfree, but water running on it. As you approach the lake, deep, soft snow. Above treeline on Flattop, very wet conditions. Yoiu will get wet. Some remaining snowfields. Coming down to Bear Lake there is still lots of snow on the trail/switchbacks. Waterproof boots, gators trekking poles recommended.
Trail: Never Summer Sites
Date: 7/8/14
By: Park Ranger
Sites are snowfree but very buggy. There is still significant snow in some of the cirques. The Hitchens drainage is passable but still has some snowfields.
Trail: Divide Loop
Date: 7/8/14
By Visitor
Can be done. Visitors who just came out reported the July switchbacks have some patchy snow. None more than 3 feet deep. Trekking poles used; stabalizers, ice axes were not used. Some water trickling under the snow. Route was up North Inlet and out the Tonahutu.
Trail: Bear Lake to Lake Helene
Date: 7/5/14
By: Volunteer
The route from Bear Lake to Lake Helene is mostly free of snow. There is snow on the trail just before and around Lake Helene. The snow is very firm and easy to walk on.
Trail: Lake Haiyaha
Date: 7/5/14
By: Visitor
Hiked from trail access just before Dream Lake. Very small, short piles of snow along switchbacks. Hiking boots were adequate. No postholing at the time of the hike. Returned to Bear Lake via same route.
Trail: North Inlet
Date: 7/5/14
By: Park Ranger
Switchbacks above July Campsite still completely under snow and trail was nearly impossible to find. Snow is slick and footing unstable. DO NOT recommend this route due to safety until later in the season when more meltout has occurred.
Trail: Helene to Odessa
By: Visitor
Date: 7/5/14
There are four snowfields between Helene and Odessa. First is very insignificant. They get more hazardous the closer you get to Odessa. The third and fourth are steep and hazardous. Especially the fourth. Not recommended for most hikers.
Trail: Chapin, Chiquita, Ypsilon
By: Visitor
Date: 7/5/14
Trail clear of snow at top of these mountains. Some snow at lower elevations in the trees (patches of less than 50 feet).
Trail: Sandbeach Trail
Date: 7/4/14
By: Park Ranger
The Sandbeach Trail bridge at Hunters Creek has been replaced.
Trail: Lawn lake/Crystal Lake
Date: 7/4/14
By: Park Ranger
Trail up to Lawn Lake is snow free and mostly dry with a few small muddy sections and small patches of snow. Beyond Lawn Lake, the trail up to Crystal Lake is mostly snow-covered, but it's hard packed and easy to find with some postholing.
Trail: Finch & Pear Lakes
Date: 7/4/14
By: Park Ranger
No snow on trail until after Pear Creek Campsites. Then intermittent hard-pack snow on trail for less than .2 mile to Pear Lake. Some careful route-finding necessary but not that difficult. Shores of Pear Lake free of snow.
Trail: Timber Lake Trail
Date: 7/4/14
By: Park Ranger
Rangers have flagged a route around the landslide. Advise campmers and hikers to follow the flags.
Trail: Mills Lake
Date: 7/3/14
By: Park Ranger
The trail to Mills Lake is now clear of snow. There are only a few wet/muddy areas to cross before reaching the lake.
Trail: Timber Lake
Date: 7/4/14
By: Park Ranger
The trail to Timber Lake is now open. Hike around the top of the landslide that closed the trail. Route will be marked.
Trail: East Inlet
Date: 7/3/14
By: Park Ranger
Trail is snow free to Lake Verna with the exception of the avalanche area between the Gray Jay Backcountry Site and Lone Pine Lake. Snow here is hard-packed and covered with branches so no postholing occured. Some water on the trail from the quickly melting snow above, but rocks in the water help hikers stay dry. Beyond Lake Verna, unmaintained trail has many trees down and the usual route is under water. This made it difficult to navigate to Sprit Lake. From Spirit Lake to Fourth Lake, patches of snow. Beyond Fourth Lake trail is still snow-covered and route is very difficult to find. Heading back towards Lake Verna, water in the creeks/rivers had risen an inch since earlier in the day because of hot conditions and quickly melting snow. All backcountry sites are snowfree.
Trail: North Inlet
Date: 7/3/14
By: Visitor
Snow/icefield still exists on the upper switchbacks above July Campsite on the North Inlet Trail. Conditions too hazardous to try to cross. Hikers turned around.
Trail: Fern, Odessa, Lake Helene
Date: 7/2/14
By: Visitor
The trail between Fern, Odessa and Lake Helene is still snow-covered.
Trail: Black Lake
Date: 7/2/14
By: Park Ranger
Snowfields begin about 1/2 mile from Black Lake. This area can be slippery and difficult to hike over. It can be difficult to find the trail. Traction devices/hiking poles helpful.
Trail: Ouzel Falls Bridge
Date: 7/2/14
By: Park Ranger
The Ouzel Falls bridge will not be completed this summer. An engineering problem will result in the bridge not being completed until sometime next year.
Trail: Lion Lake #1
Date: 7/2/14
By: Volunteer
Trail is clear of snow until final mile where it becomes patchy but easily passable with snow rarely more that a foot deep. About half of the shore around the lake is snow-covered. Downed trees in snowy areas occasionally make it difficult to follow the trail, but the trail itself is generally dry and in good condition.
Trail: Black Lake & Spearhead
Date: 7/1/14
By: Park Ranger
There are numerous snowfields covering the trail roughly 3/4 of a mile before Black Lake. The snow in the mornings is harder and much more passable. As the snow warms during the day it becomes very slushy and slippery. Poles highly recommended. The climber's access trail to the boulderfield below the Spearhead is holding snow as well. Be extremely careful crossing the stream on snow as it is possible to posthole/fall through in some spots. The base of the Spearhead is covered with a rather large snowfield. It is very steep and requires devices. Apart from the snow in all areas near Black Lake, expect muddy conditions abound.
Trail: Bear Lake
Date: 7/1/14
By: Park Ranger
The trail around Bear Lake is now clear and dry.
Trail: Colorado River Trail
Date: 7/1/14
By: Park Ranger
The trail is no longer flooded! It is very muddy, but visitors are walking right through.
Trail: Flattop Mountain
Date: 7/1/14
By: Volunteer
Trail from Bear Lake to Dream Lake Overlook clear. Patches of snow followed by continuous sections of snow and then clear trail just below treeline. Poles very helpful. Previous experience with trail helpful.
Trail: Fifth Lake/Boulder Grand
Date: 6/30/14
By: Park Ranger
Above Fifth Lake there are still 10 foot to 15 foot drifts of snow.
Falling trees are ever-present hazards when traveling in the forest. Be aware of your surroundings. Dead trees can fall without warning!
Did You Know?

Moraine Park was once a booming settlement. As the rustic cabins grew into lodges, the inn keepers built more facilities to serve guests. Stead's Resort had both a swimming pool and a golf course.