Old Fall River Road will be closed in 2014 due to flood damage

Damages on Old Fall River Road are extensive and the road will remain closed to vehicles through 2014. It is unknown at this time whether hikers and bicyclists will be allowed on the road. More »
Impacts from September 2013 Flood

Due to recent flooding, there are still some closures in the park that could affect your visit. More »
Longs Peak
Keyhole Route Information
For general information and answers to Frequently Asked Questions about climbing Longs Peak-Keyhole Route, click here.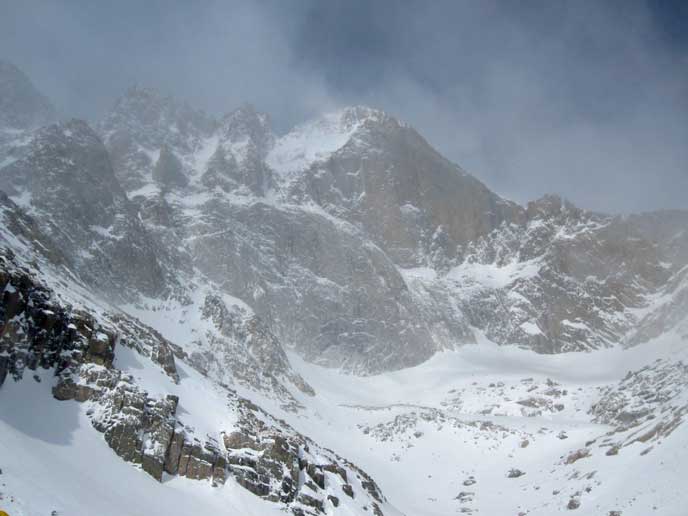 NPS PHOTO
Longs Peak Winter Conditions Advisory
Winter conditions have taken over in the high country of Rocky Mountain National Park and will persist at least through June. Any venture beyond the trail head will require route-finding skills, proper winter equipment, and knowledge of winter travel. Travelers should expect to encounter cold temperatures, snow and ice, avalanche hazards, and high winds. Winter routes are not marked and often vary from the established summer trails. Periods of excellent weather do occur, however they are short lived and backed by long periods of intense winter conditions. Also, be prepared to turn around when conditions exceed your abilities. Remember your safety is in your own hands.
Regular reports on the Keyhole Route on Longs Peak will be posted from June through September.
A current weather forecast for the Longs Peak high country can be found at: http://forecast.weather.gov/MapClick.php?CityName=LONG%27S+PEAK&state=CO&site=BOU&textField1=40.258&textField2=-105.613&e=0
A current avalanche forecast can be found at:
http://avalanche.state.co.us/pub_bc_avo.php?zone_id=1
Did You Know?
Rocky Mountain National Park hires master carpenters to repair its more than 150 historic structures. More...