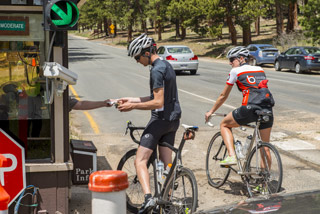 NPS Photo/Biddle
Entrance fees are $10.00 for a weekly permit per bicycle.
Elevations range form 8,000 to 12,183 feet (2,400 to 3,700 m). There are 60 miles (97 km) of hard-surfaced road with a five to seven percent grade.
Any bicycle group of more than 25 riders (including non-commercial and commercial) must contact the park Concession Office at 970-586-1209 for information on regulations, conditions, and permit requirements for cycling in Rocky Mountain National Park.
Guided bicycle tours can be found in the community of Estes Park.
Off-road Mountain Biking
Trailbikes, mopeds, and bicycles are prohibited off established roads in Rocky Mountain National Park. Nearby National Forests offer off-road trails for backcountry cycling.
Safety & Equipment
Cyclists must ride single-file. Commonly accepted road courtesy in the mountains calls for slower traffic to pull over and stop to allow congestion behind to pass where appropriate shoulder space is available.
During summer, some roads undergo "chip and seal" work leaving loose, fine rock on the road. This can be very hazardous to the cyclist. The following gear is recommended: helmets; bright-colored, warm, waterproof clothing; and food and water.
Carry tools and spare parts, and inspect brakes for worn cables and pads.
Descents may exceed 20 miles (32.2 km) and elevation losses of 4,000 feet (1,219 km).
Summer
Bicycles are allowed on park roads only.
Be aware park roads have narrow or no shoulders, and often carry heavy traffic. To minimize conflicts with vehicles, plan your ride for the early morning hours.
Try to be off the road in late afternoon when thunderstorms and lightening create serious hazards.
Winter
Winter Roads open to bicycles:
Upper Beaver Meadows Road
Moraine Park Campground (closed loops)
Endovalley Road
Aspenglen Campground
High Drive
Old Fall River Road (gravel surface) and Trail Ridge Road (paved) are open to bicycles early in the season (April), before they open to vehicles. Check with the park's Information Office regarding specific dates.