Old Fall River Road will be closed in 2014 due to flood damage

Damages on Old Fall River Road are extensive and the road will remain closed to vehicles through 2014. It is unknown at this time whether hikers and bicyclists will be allowed on the road. More »
Impacts from September 2013 Flood

Due to recent flooding, there are still some closures in the park that could affect your visit. More »
Road Status Report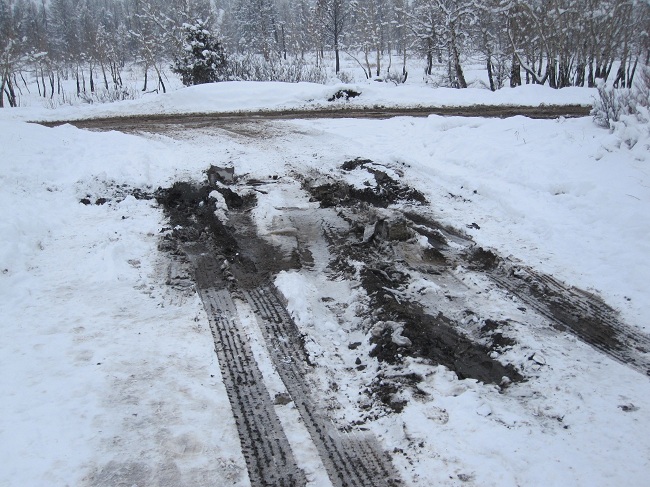 NPS
Melting and Thawing affects our roads in the Spring
As spring approachs, our roads become muddy with daytime thawing. Pictured above is the road and parking area at the Fern Lake "winter" parking area.
Rocky Mountain National Park has the highest paved roads in any National Park in the United States. Trail Ridge Road crests at 12,183 feet. Due to the high elevations and exposure, park roads are subject to strong winds and rapid weather changes. Road conditions in and around the park can change quickly, particularly in the spring and fall.
Trail Ridge Road: CLOSED FOR THE SEASON. Weather permitting, closures are at Many Parks Curve on the east side, which is about 8 miles from the east entrances, and the Colorado River Trailhead on the west side, which is about 10 miles from the Grand Lake entrance.
Trail Ridge Road was not designed to be an all-season road, as 11 miles are above 11,500 feet and there are no shoulders and few guardrails. Trail Ridge Road is in 'winter trail status,' which means it is closed to bicycles and pets beyond closed gates.
Because weather conditions may change rapidly, particularly in spring and fall, park visitors should be prepared to adjust travel plans accordingly and are encouraged to call the park's Trail Ridge Road recorded status line at 970-586-1222. To learn more about this scenic drive, click here.
For information about Rocky Mountain National Park call 970-586-1206 daily 8 a.m. to 4:30 p.m. (Mountain Time).
Colorado Division of Transportation (CDOT) - Traveler Information: For information about roads outside the park call 303-639-1111 from Denver or out-of-state. For inquiries within Colorado but outside the Denver area, please call 877-315-7623. Or visit the CDOT website at http://www.cotrip.org/roadConditions.htm
Old Fall River Road: CLOSED through 2014
Flood damages on Old Fall River Road are extensive and the road will remain closed to vehicles through 2014. It is unknown at this time whether hikers and bicyclists will be allowed on the road next year. Park staff are working with the Federal Highway Administration on assessments of the Alluvial Fan area and Old Fall River Road. For additional information, read the latest news release.

Fall River Road is a steep, one-way unpaved road. It is not suitable for RVs or low-clearance vehicles, but provides spectacular views for suitable passenger cars, trucks, or SUVs. Click here to learn more.
Vehicles with trailers or vehicles exceeding 25 feet in length are not permitted on Old Fall River Road.
For more information about traveling on Old Fall River Road, click here.
Other Roads
Bear Lake Road: OPEN
Fern Lake Road: CLOSED AT THE WINTER PARKING AREA
Wild Basin Road: CLOSED AT THE WINTER PARKING AREA
Twin Sisters Trailhead Access Road: OPEN
Upper Beaver Meadows Road: OPEN
Endovalley Road: OPEN from Horseshoe Park to the East Alluvial Fan Parking Area. Endovalley Road is closed to leashed pets and bicycles at the barricade at the East Alluvial Fan Parking Area.
For information about other area closures in the park, click here.
Like to see as many byways as you can? On the outskirts of Rocky is the oldest Colorado Scenic Byway, Peak to Peak, and another America's Byway, the Colorado River Headwaters. To discover more about other Colorado Scenic Byways click here.
Updated: Feb 13, 2014, 8:30 a.m.
Did You Know?

The male Western Tanager, with red head and yellow body, stands out brightly in the dark conifer forest.