WARNING: High Tides (up to 8 ft or 2.4 m) This Week

Please exercise extreme caution when entering coves, jetties, and coastal areas with steep cliffs (e.g. Carruthers Cove). There is great potential for entrapment, as higher than usual tides may flood normally present beaches and escape routes. More »
Warning: Elk Calving Season, Elk Can Be Aggressive

Female (cow) elk are defensive of their newly born calves. As people approach, a cow may charge and/or rear up and lash out with her front legs. For your safety, STAY 500 FEET AWAY from elk, at all times. More »
Davison Road Maintenance begins 7/7/2014. Expect delays.

Beginning July 7, road crews will be grading sections of Davison Road between the hours of 8 am and 4:30 pm. Visitors to Gold Bluffs Beach and Fern Canyon should expect 30 minute delays.
Operating Hours & Seasons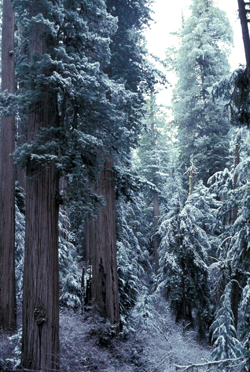 NPS Collection
Redwood National and State Parks is always open. Visitor centers and campgrounds maintain seasonal hours of operation.
While temperatures range from 40 to 60 degrees Fahrenheit year-round along the redwood coastline, experiences in the parks change with the seasons. In summer, redwoods rely on the moist fog that envelops the coast in the summer. Further inland, conditions are mild with warmer temperatures. Winters are cool with considerable precipitation.
more...

Call (707) 443-7062 for current weather conditions. Check-out current conditions in the parks and contact a visitor center for the latest information.


Did You Know?

The Columbia Lily, also known as Tiger Lily, colors the road sides and forest edges with brilliant yellow-orange blossoms from May through August. The stem is two to three feet tall and has several whorls of long, narrow leaves.