Backcountry Fire Restrictions in Effect (Last updated: 9/10/2014)

Due to "Extreme Fire Danger," fires are currently prohibited in backcountry, including established fire rings at designated backcountry campsites and on Redwood Creek gravel bars. Personal camp stoves are allowed. Call 707-465-7335 for updates.
Operating Hours & Seasons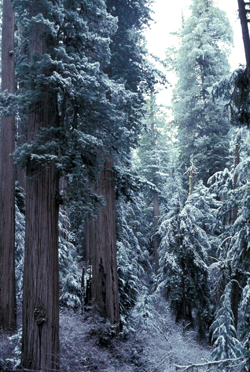 NPS Collection
Redwood National and State Parks is always open. Visitor centers and campgrounds maintain seasonal hours of operation.
While temperatures range from 40 to 60 degrees Fahrenheit year-round along the redwood coastline, experiences in the parks change with the seasons. In summer, redwoods rely on the moist fog that envelops the coast in the summer. Further inland, conditions are mild with warmer temperatures. Winters are cool with considerable precipitation.
more...

Call (707) 443-7062 for current weather conditions. Check-out current conditions in the parks and contact a visitor center for the latest information.


Did You Know?

Did you see that bullet cross the treetops? That's the marbled murrelet! The robin-sized seabird nests on the branches of old-growth conifer trees and flies to and from the ocean at 60 miles per hour. In the ocean, it feeds on fish. This bird is listed as state-endangered and federally-threatened.