Newton B. Drury Scenic Parkway is CLOSED due to hazardous road conditions.

Inclement weather often creates unsafe road conditions. Currently, there is a "glaze" of transparent ice on sections of the road. The Parkway will reopen as soon as State law enforcement officers deem it safe to travel upon.
Most campgrounds remain OPEN. Sites are available on first-come, first-served basis.

Jed Smith, Elk Prairie, Gold Bluffs Beach campgrounds are OPEN. All sites are available on first-come, first-served basis. Mill Creek Campground is CLOSED and will reopen May 16, 2014. More »
Gravel Access Road CLOSED.

Gravel access road to the Tall Trees trailhead is closed until further notice. Tall Trees Trail and Grove are still open. The easiest way to access this area is by hiking the Redwood Creek Trail, which is 8 miles one way.
Operating Hours & Seasons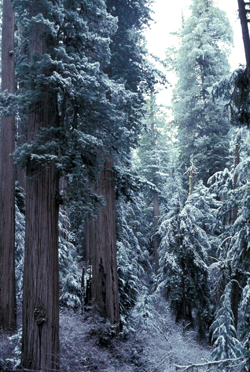 NPS Collection
Redwood National and State Parks is always open. Visitor centers and campgrounds maintain seasonal hours of operation.
While temperatures range from 40 to 60 degrees Fahrenheit year-round along the redwood coastline, experiences in the parks change with the seasons. In summer, redwoods rely on the moist fog that envelops the coast in the summer. Further inland, conditions are mild with warmer temperatures. Winters are cool with considerable precipitation.
more...

Call (707) 443-7062 for current weather conditions. Check-out current conditions in the parks and contact a visitor center for the latest information.


Did You Know?

Redwood National and State Parks protects 37 miles of rugged California coastline. Off-shore seastacks provide nesting for about 40 percent of California's seabirds. Drive to the Klamath River Overlook on Requa Road to view where this wild and scenic river meets the sea.