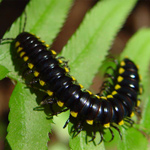 Wikimedia
Yellow-spotted Millipede
The yellow-spotted millipede is a species of arthropod in the Myriapoda, the "many-legged ones" a group that also includes centipedes. Myriapods possess from fewer than 10 to nearly 200 pairs of appendages ("legs"). They often occur in moist climates like that of the Pacific
Northwest; they may be found in damp places under stones and logs, in leaf litter, or soil. Millipedes play an important ecological role in converting forest floor litter into fertile topsoil.
At certain times of the year forested trails within RNSP are literally crawling with yellow-spotted millipedes and their nymphs, which hatch small and white and take approximately two years and several molts of their exoskeleton to reach maturity.
Millipedes belong to the arthropod class Diplopoda, which means "double legs", they have two pairs of legs per body segment. Yellow-spotted millipedes have 18-20 body segments and 31 pairs of legs (not a thousand like the name "millipede" suggests). The cylindrical body is usually black with yellow or red spots on the sides of the each segment. They move in a straight, forward motion, versus centipedes which wiggle from side to side. Unlike centipedes, but like other millipedes, yellow-spotteds do not bite. When provoked they curl up in a tight ball to protect their soft underparts. They also can release a foul-smelling toxin (hydrogen cyanide) from small pores in each leg segment. To humans the smell is pleasant and smells like almond extract, however, it is toxic to beetles and shrews in small doses.