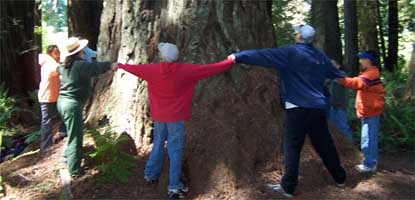 Deborah Savage NPS
If you are planning a field trip with your class or group and would like a ranger-led walk or talk contact (707) 465-7396 to schedule one. When available the park is happy to try and work with you to plan a special field trip for your class or group.
For Your Safety:
These parks are natural environments; the wild animals, plants, streams, and other natural features, as well as certain weather conditions that occur here can be hazardous. Coastal areas present hazards associated with cold ocean waters, heavy surf, strong currents, and tsunamis.
Be aware of the following while in the parks:
Ticks that carry Lyme disease occur in the area. Stay on trails, check clothing, wear light colors to easily spot a tick, tuck pant legs into socks and shirt into pants, inspect your head and body after a hike.
Poison oak can be identified with the saying "Leaves of three, let them be". Contact with poison oak leaves can cause an itchy skin rash, so wash thoroughly if you brush against it. Stay on trails!
Tides can be dangerous, so check a tide chart and keep an eye on the surf for "sneaker" waves. A sneaker wave is a wave that is larger than it appears.
Do not share your lunch with any wildlife including birds. Help keep the wildlife wild!
Can't leave the classroom? Consider a virtual, ranger-led field trip to Redwood National Parks with the PORTS program!