NO FIREWORKS

Reminder to park visitors. Fireworks are prohibited at Prince William Forest Park.
Oak Ridge Campground Site A29 closure

Oak Ridge Campground site A29 will be closed until safety concerns have been mitigated. Please do not use that site until it has been reopened.
Warm Wet Spring = More Ticks

Please check yourself and your pets for ticks continually during and after your visit. Ticks are less prevelent if you stay on trail or in mowed areas. Wearing light colored clothing helps you spot them before the attach.
Firewood

Outside firewood is prohibited in Prince William Forest Park, unless it is certified USDA 'bug free' firewood. Dead and downed wood may be collected from designated areas for use while in the park. Help us protect the forest from invasive species!
Visitor Center Remodel 2014

Over the next several months there will be new changes coming to the Visitor Center. Presently we are remodeling the bookstore area to give it more of a country theme. Next the exibit area will get all new exhibits. Thank you for your patience and support
For Kids
The park's geographical location is unique in that it covers the Piedmont and Coastal zone, and all are rich with plants, animals and stories of human history, giving children plenty of opportunity to explore and learn. Kids visiting the park enjoy visiting the exhibits and touch table located at the visitor center.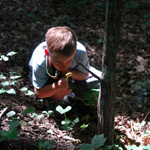 Take a Hike
Small children may enjoy exploring the woods on some of our shorter tails with interpretive signage including Piedmont Forest Trail and Laurel Loop Trail. For older children, the Farms to Forest Trail provides a good challenge and is an excellent day hike. You can also try try our letterboxing courses! Follow the clues to learn more about the history of this park.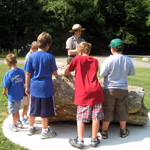 Ranger-led Programs & Events
Get kids involved in ranger-led programs. These include guided hikes, slide programs, bird walks and guided explorations of various park features..
Check the Schedule of Events page to see if there is a program already scheduled during your visit. Or you can request a Ranger-Led Program for your group.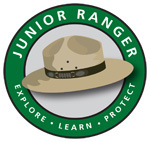 Join our Junior Ranger Corps!
Stop by our visitor center to get your free Junior Ranger activity booklet, or you can become a Prince William Forest Park Junior Ranger by completing our online Junior Ranger booklet and mailing it in. Either way, when you're done all of your activites, you will get a certificate and junior ranger badge!
For the latest Junior Ranger News, download the newest edition of the Junior Ranger Gazette.
Become a Webranger!
Can't visit your favorite national park this summer? Why not become a webranger to learn more about your National Parks without ever leaving your computer?
Letterboxing!
Stop by our visitor center and try out our letterboxing courses. Follow the clues to explore the beauty of the park. Find the letterbox and stamp your booklet.


Did You Know?

Prince William Forest Park was used by the Office of Strategic Services (forerunner to the CIA) as a training camp for spies during World War II. Today, you can rent a cabin where spies once learned their trade.