NO FIREWORKS

Reminder to park visitors. Fireworks are prohibited at Prince William Forest Park.
Oak Ridge Campground Site A29 closure

Oak Ridge Campground site A29 will be closed until safety concerns have been mitigated. Please do not use that site until it has been reopened.
Warm Wet Spring = More Ticks

Please check yourself and your pets for ticks continually during and after your visit. Ticks are less prevelent if you stay on trail or in mowed areas. Wearing light colored clothing helps you spot them before the attach.
Firewood

Outside firewood is prohibited in Prince William Forest Park, unless it is certified USDA 'bug free' firewood. Dead and downed wood may be collected from designated areas for use while in the park. Help us protect the forest from invasive species!
Visitor Center Remodel 2014

Over the next several months there will be new changes coming to the Visitor Center. Presently we are remodeling the bookstore area to give it more of a country theme. Next the exibit area will get all new exhibits. Thank you for your patience and support
Laurel Loop Trail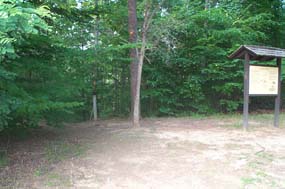 National Park Service
Laurel Loop Trail (1.4 miles; 2.3 km)
This short loop trail is perfect for a quick trip to South Fork Quantico Creek. Laurel Loop can also be used as an access trail to Birch Bluff Trail, The Crossing Trail, South Valley Trail, and North Orenda Road.
Access the trail from the Pine Grove Picnic Area by parking near the picnic area's bathrooms. Walk behind the bathrooms and face the forest to see the trailhead.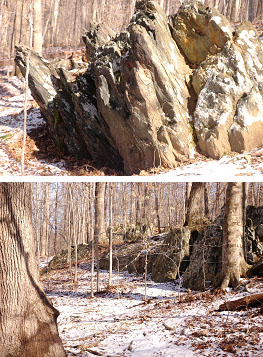 National Park Service
After only a short while on this trail you will see red blazes that mark the beginning of the Birch Bluff Trail. You can bear right here to join Birch Bluff Trail, which is a 1.8 mile extension that connects back up with Laurel Loop Trail. If you decide to continue on Laurel Loop, you will come upon a small rock outcropping.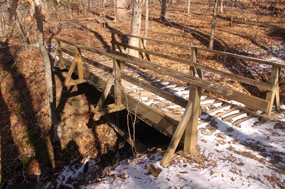 National Park Service
After a short descent, the trail will meet up with South Fork Quantico Creek. The trail runs along the creek for about five minutes crossing over a small footbridge.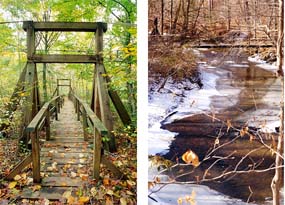 National Park Service
A little farther down the trail, Laurel Loop Trail begins to bear left away from the creek and back towards the visitor center.
Here a small bridge can be found that crosses the South Fork Quantico Creek and meets up with the South Valley Trail and North Orenda Road.
Did You Know?
Capable of living as long as 100 years, the Eastern Box Turtle is Prince William Forest Park's longest living reptile, and if conditions are just right, can spend their entire life in an area no larger than a football field.