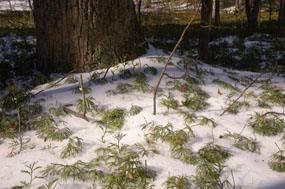 National Park Service
While hiking along the Farms to Forest Trail, enjoy the green of the ground cedar that litters the forest floor. Ground cedar (Lycopodium complanatum) is small, perennial plant with horizontal stems that creep along the forest floor. They grow up to a meter long with flattened, cedar-like stems.
After about 15 minutes of walking down the Farms to Forest Trail you will reach the first junction with the Extension Trail. Bear right to join the Farms to Forest Extension Trail or continue straight for a quick trip back to where you began.