NO FIREWORKS

Reminder to park visitors. Fireworks are prohibited at Prince William Forest Park.
Oak Ridge Campground Site A29 closure

Oak Ridge Campground site A29 will be closed until safety concerns have been mitigated. Please do not use that site until it has been reopened.
Warm Wet Spring = More Ticks

Please check yourself and your pets for ticks continually during and after your visit. Ticks are less prevelent if you stay on trail or in mowed areas. Wearing light colored clothing helps you spot them before the attach.
Firewood

Outside firewood is prohibited in Prince William Forest Park, unless it is certified USDA 'bug free' firewood. Dead and downed wood may be collected from designated areas for use while in the park. Help us protect the forest from invasive species!
Visitor Center Remodel 2014

Over the next several months there will be new changes coming to the Visitor Center. Presently we are remodeling the bookstore area to give it more of a country theme. Next the exibit area will get all new exhibits. Thank you for your patience and support
Rent a Historic Cabin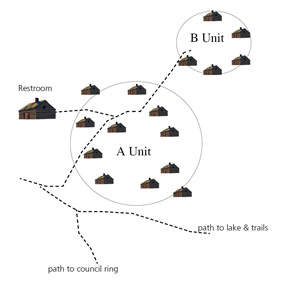 Individual cabin rentals are available in Cabin Camp 3. This forested camp is one of five cabin camping facilities in the park constructed by the Civilian Conservation Corps in the 1930s and the Office of Strategic Services during World War II. It is also one of four cabin camps listed on the National Register of Historic Places.
What Facilities are at Cabin Camp 3?
The rental cabins are arranged into two loops - 'A' and 'B' Unit. 'A' Unit has 10 cabins (each housing 4-6 people) arranged around a large grassy area. The B Unit has 3 10-person cabins arranged on a hill over looking a South Fork Quantico Creek. 'A' and 'B' unit also have a craft lodge (available to all campers within the unit) and a central bathhouse with full shower facilities.
Each cabin includes individual beds and mattresses, a picnic table and a cooking grill. Cabins have electric lights and ceiling fans, but do not have electrical outlets. Cabins are not equipped with kitchens or individual bathrooms. Please note that pets are not allowed in any cabin camp.
How Much Does it Costs to Rent a Cabin?
In 2013, the rental rates are $40 for a four-person cabin, $50 for a six-person cabin and $60 for a 10-person cabin. The park visitor center, Pine Grove Picnic Area and numerous hiking trails are easily accessible from the camp.

When are the Cabins Available to Rent?
Please note: Cabin Camp 3 is open seasonally, May through October.
How do I apply for a Cabin?
Individual cabin reservations are accepted on a first come- first served basis. Full payment must be received at the time the reservation is made. Ten person cabins are available by reservation only. Application.

Unreserved 4 and 6-person cabins are available on a same-day, walk-in, first-come first-served basis. Walk-ins must pay with check or cash at time of check-in. The cabin camp office is not available to take reservations after 5 p.m. on Friday evening thru 8:00 a.m. Monday morning.
How do I get to Cabin Camp 3?
Cabin Camp 3 is located just off of the park Scenic Drive, approximately 1 mile from the entrance station. After entering the park, take the first left onto Scenic Drive. Take a right onto Orenda Road. There is a $5 per vehicle entrance fee to the park.
Click here for a map of this route.
For more information about renting cabins in the park, call the cabin camp office at 703-221-4706 x401.
Is there a Cancellation Policy?
Cancellations must be received at least 2 weeks prior to the first night of your stay to receive a refund. The refund process takes 6-8 weeks to complete.
What are the regulations of the camp?
All pets are prohibited in the cabin camp area, cabins and camp buildings (except service animals)
Smoking is not permitted in any of the cabins or buildings
Cabins should be swept and free of trash upon departure
Quiet hours are between 10:00 p.m. and 6:00 a.m
Please be considerate of fellow camperskeep your cabin area and the comfort stations free of trash and personal belongings
Please recycle using the proper container located within the camp
To prevent animal and pest problems, please place trash in provided covered trash receptacles or carry it out with you
Fires are not permitted outside of the provided grillsand fireplaces in the lodge building
Camping tents, screen tents or other structures are not permitted in the cabin camp
Removal or moving of picnic tables, beds, or mattresses is prohibited.
Vandalism of cabins and other buildings is against federal law and subject to stiff fines and/or prosecution
Electrical appliances (Stoves, AC Units, heaters, etc.) are prohibited.
Firewood purchased or brought from outside of the park is prohibited. Campers may use down and dead wood of less than 6 inches in diameter and no longer than the length and width of the provided camping grill.



Did You Know?
An owl's eyes are fixed in place because their large size provides no room for muscle. To compensate for this, it can turn its head in almost any direction and angle, including the ability to rotate its head nearly 280 degrees. By comparison, people can only turn their heads a mere 90 degrees!