CAUTION: Post Storm Damage to Coastal Trail

The Presidio Coastal Trail segment just north of the Pacific Overlook and adjacent to Lincoln Blvd remains CLOSED indefinitely. We have posted signage to alert bicyclists and hikers and with information for safe trail alternatives. More »
Fort Winfield Scott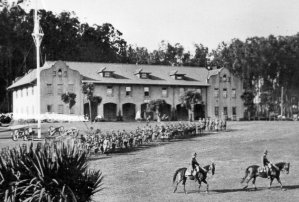 Situated near the
gun batteries
of the coastal bluffs,
Fort Scott
was established in 1912 to serve as headquarters for the Coastal Artillery Corps of the San Francisco Bay area.
Mission Revival style
buildings--the first of this style to be built on the Presidio--characterize the post, and the U-shaped parade ground breaks from traditional quadrangular design. With the advent of missiles and long-range bombers after World War II, Fort Scott lost its strategic significance and became part of the Presidio in 1956. The post was eventually converted to an Army Education Center.
Did You Know?
In 1776, Father Pedro Font wrote, "The port of San Francisco...is a marvel of nature, and might well be called a harbor of harbors...And I think if it could be well settled like Europe there would not be anything more beautiful in all the world."