Places To Go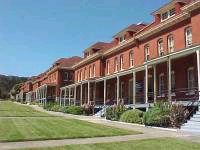 Help us move toward a more environmentally friendly future by leaving your car behind and riding the free Presidio shuttle when visiting places in the Presidio.
In Golden Gate National Recreation Area


Did You Know?
In the aftermath of a tragic fire that killed four family members of General John Pershing, the army built a fire station at the Presidio. The new Presidio Fire Station was the first on any U.S. Army post to house a permanent fire company with trained firefighters.