Places To Go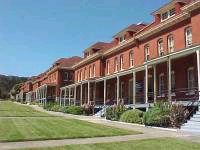 Help us move toward a more environmentally friendly future by leaving your car behind and riding the free Presidio shuttle when visiting places in the Presidio.
In Golden Gate National Recreation Area


Did You Know?
French Marshal Ferdinand Foch, supreme commander of the allied forces during World War I, visited Crissy Field in 1921 and declared it "The last word in airfields."