CAUTION: Post Storm Damage to Coastal Trail

The Presidio Coastal Trail segment just north of the Pacific Overlook and adjacent to Lincoln Blvd remains CLOSED indefinitely. We have posted signage to alert bicyclists and hikers and with information for safe trail alternatives. More »
Places To Go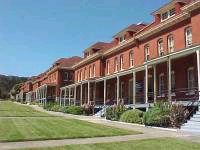 Help us move toward a more environmentally friendly future by leaving your car behind and riding the free Presidio shuttle when visiting places in the Presidio.
In Golden Gate National Recreation Area


Did You Know?
In 1915, a tragic fire at the Presidio claimed the lives of General Pershing's wife and his three daughters. Pershing's son, Francis Warren, survived the blaze and chose to enlist in the army as a private during World War II. By the end of the war he had achieved the rank of major.