Places To Go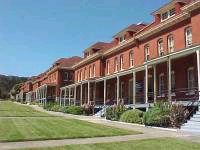 Help us move toward a more environmentally friendly future by leaving your car behind and riding the free Presidio shuttle when visiting places in the Presidio.
In Golden Gate National Recreation Area


Did You Know?

In 1872, there was a proposal in Congress for the Presidio to become a San Francisco city park. The Army reported that 800 acres were required for national defense, provided barracks be relocated. Despite Congressman Cole's attempts, however, the Presidio reservation remained intact.