Operational Changes Took Effect on May 1

The Lighthouse Visitor Center is now only open Fridays through Mondays. The Kenneth C. Patrick Visitor Center will be closed through late December 2013. More »
2013 Harbor Seal Pupping Season Closures

From March 1 through June 30, the park implements closures of certain Tomales Bay beaches and Drakes Estero to water-based recreation to protect harbor seals during the pupping season. Please avoid disturbing seals to ensure a successful pupping season. More »
Road Closures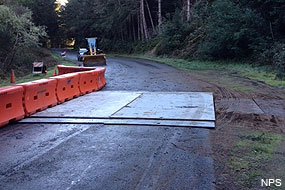 Limantour Road at Point Reyes National Seashore was reopened on Friday, January 4, 2013. The road has been stabilized and temporary measures will provide access until permanent repairs to the road can be carried out in the next few months.
Limantour Road is open with one lane of traffic coordinated by stop signs at the site of the repair work. The location of the repairs to Limantour Road is about one and a half miles from the intersection of Limantour and Bear Valley Roads. While additional signs will alert drivers as they approach the area, drivers are urged to use caution while on Limantour Road.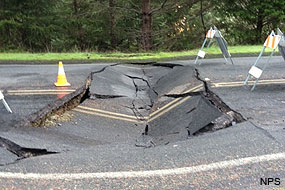 On Monday, December 31, 2012, Limantour Road was temporarily closed due to a failed culvert.
For emergency road and weather conditions in West Marin, tune in to KWMR, 90.5 FM.
For more information on road closures in Marin County and the Bay Area, check the Marin Sheriff Current Emergency Information, the California Department of Transportation's Current Highway Conditions, and CHP Traffic Incident Information (select "Bay Area" in the upper left corner, then look for "Marin" in the Area column) websites.


Did You Know?
The rich, lush environment of Point Reyes heavily depends on the fog. During rainless summers, fog can account for 1/3 of the ecosystem's water input. But recent studies have indicated that there has been about a 30 percent reduction in fog during the last 100 years here in coastal California. More...