Point Reyes Fire Management will be using heavy equipment on the Inverness Ridge Trail this week.

A recreation advisory is in effect for hiking, horse riding, and biking along the Inverness Ridge Trail (aka Bayview Fire Road) during the week of September 14, 2014. Extra caution in this area is critical while work is in progress. More »
Road Closures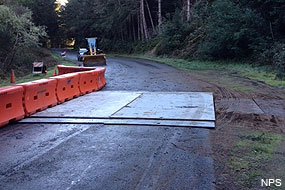 On Monday, December 31, 2012, Limantour Road was closed due to a failed culvert. Limantour Road was reopened on Friday, January 4, 2013. The road has been stabilized and temporary measures will provide access until permanent repairs to the road can be carried out in the next few months.
Through Monday, September 30, 2013, Limantour Road will be open with one lane of traffic coordinated by stop signs at the site of the repair work. The location of the repairs to Limantour Road is about one and a half miles from the intersection of Limantour and Bear Valley Roads. While additional signs will alert drivers as they approach the area, drivers are urged to use caution while on Limantour Road.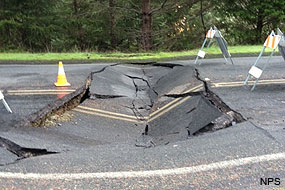 Beginning on Monday, September 30, 2013, Limantour Road will be closed for repairs on weekdays from 8 am until 5 pm. The closure will be in effect for up to 30 days. Limantour Road will be open to traffic all day on weekends, as well as overnight from 5 pm until 8 am on weekdays. The closure is required to replace a failed culvert before the arrival of the winter rains.
For emergency road and weather conditions in West Marin, tune in to KWMR, 90.5 FM.
For more information on road closures in Marin County and the Bay Area, check the Marin Sheriff Current Emergency Information, the California Department of Transportation's Current Highway Conditions, and CHP Traffic Incident Information (select "Bay Area" in the upper left corner, then look for "Marin" in the Area column) websites.


Did You Know?

Harbor seals (Phoca vitulina) are present in the waters of Point Reyes year round. Every spring, approximately 7,000 harbor seals, or 20% of the mainland California breeding population, haul out on the beaches of Point Reyes. Look for them in the esteros and in Tomales Bay and Bolinas Lagoon. More...