Operational Changes Took Effect on May 1

The Lighthouse Visitor Center is now only open Fridays through Mondays; closed Tuesdays through Thursdays, including Thanksgiving. The Kenneth C. Patrick Visitor Center will be closed through late December, reopening weekends and holidays on December 28. More »
Visitor Center Winter Hours

Visitor Center Winter Hours took effect on Sunday, November 3, 2013. More »
Red Barn Art Exhibitions - 2013
In 2003, Point Reyes National Seashore Association (PRNSA) established the art gallery in the Red Barn Classroom at Point Reyes National Seashore. Rotating painting, photography, and educational exhibits several times a year, themes of the selected shows reflect the natural or cultural aspects of the Seashore and surrounding area.
The Red Barn Art Exhibitions of 2013 included:
Visit the Red Barn Art Exhibitions section of our Indoor Activities page to find out what is currently on display. The Red Barn art gallery is open by appointment only, Mondays through Fridays, 9 am to 4 pm; closed holidays and as otherwise noted. Please contact Carola DeRooy at 415-464-5125 or by email or Annalisa Price at 415-663-1200 x309 or by email to schedule an appointment or for more information. For most exhibitions, there is also an accompanying artist reception, which is open to everyone.
To get to the Red Barn Classroom, follow the directions to Point Reyes National Seashore. As you proceed up the driveway toward the Bear Valley Visitor Center, turn left at the sign for the Red Barn Classroom.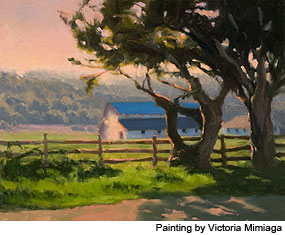 "BayWood Artists Paint Point Reyes"
September 5 through September 30, 2013;
Artists reception was on August 31, 2013;
Open house was on September 1 & 2, 2013.
BayWood Artists is a group of professional Northern California artists dedicated to helping preserve and protect areas recognized as particularly beautiful and important to future generations.
"It is truly a gift when we can enjoy the wild open space and be part of Mother Nature's work of art. Point Reyes National Seashore is the treasure we behold in our backyard, one that is vital for our future generations' appreciation of natural beauty and the great outdoors."
In recognition of the effort of preserving our parks, the award-winning BayWood Artists come together in giving back to the community through their art. Some of the most famous American landscape artists feature some of their best paintings in this art exhibit. The artists have gone to great lengths to capture the light and beauty of landscape and seascape of areas that are not easily accessible in order to create paintings; a window to the world of nature that we all have come to love.
Some of the best known landscape artists in California, including Chris Adessa, Krystal Allen, Christin Coy, Ben Farnham, Jon Francis, Sherrill Miller, Victoria Mimiaga, Zenaida Mott, Lissa Nicolaus, Tom Soltesz, and 2013 Guest Artist Robbie Collins, contributed paintings depicting the natural beauty of Point Reyes National Seashore. This art exhibit was not to be missed!
Half of the proceeds from this fundraising event were donated to Point Reyes National Seashore Association (PRNSA) to benefit the environmental protection of Point Reyes National Seashore.
"Reyes of Light: Iconic Images of Point Reyes National Seashore"
Photographs and Paintings by Richard Blair and Kathleen Goodwin
July 2 through August 28, 2013
Richard Blair has been in a photographic frenzy for most of his adult life. He has been a professional photographer since 1967 when he moved to California. Natural and urban landscapes are his first love. He was park photographer for the National Park Service based in Yosemite Valley. Blair photographs in all formats, from 35 mm to 8x10 size negatives. He works in both black and white and color, and exhibits his work through the medium of photographic books, which he designs, publishes, and prints.
Painter, writer, and photographer Kathleen Goodwin was born in South Africa. Never in her wildest dreams did she think she would end up a professional painter. After settling in California in 1974, her artistic expressions evolved through stints as a journalist, poet, street artist, until she focused on painting. She and husband Richard Blair began publishing books of their photography with the release of their first bestseller "Point Reyes Visions" in 1999.
Residents of the Point Reyes area for decades, both artists have had ample opportunity to capture the area in all its moods and spectacular light. Reyes of Light will provide visitors and locals alike new visions of their favorite places and new views ready to be discovered.
In addition to the exhibition, the public was invited to an artists' reception at the Red Barn Classroom on Sunday, August 11, 2013.
Visit pointreyesvisions.com for a preview of what you might see.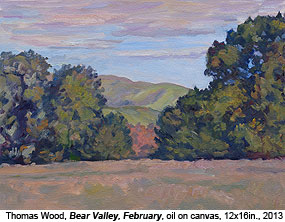 Thomas Wood Paints the Marin Landscape
April 6 through June 27, 2013
In addition to the exhibition, the public was invited to an artists' reception at the Red Barn Classroom on Saturday, April 20, 2013.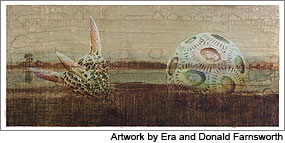 Specimens and Glass Houses
January 25 through April 1, 2013
Controversy surrounding theories of evolution have continually unfolded since British scientist Charles Darwin published his book On the Origin of Species in 1859. For contemporary printmakers Era and Donald Farnsworth, Darwin's writings offered the opportunity to explore notions about science, the natural world, and the chasm that sometimes exists between observation and belief. Collectors of strange and beautiful insect specimens and digital technology enthusiasts, the Farnsworths produced this exhibit series using insects from their own collection, as well as specimens from the California Academy of Sciences in San Francisco. The highly detailed images were digitally captured and then overlaid onto printed chapters of Darwin's writings. Visitors also had the opportunity to view a 3-D triptych imposing photographed super magnified marine diatoms on to landscape features, an innovative centerpiece of the exhibit.
In addition to the exhibition, the public was invited to an artists' reception at the Red Barn Classroom on Sunday January 27, 2013.
Did You Know?

A 1° F increase in average temperature seen in California over the last 100 years has led to Sierra snow melting 2 to 4 weeks earlier and flowers blooming 1 to 2 weeks earlier. Temperatures are predicted to increase another 1° to 2° F in the next 25 years. More...