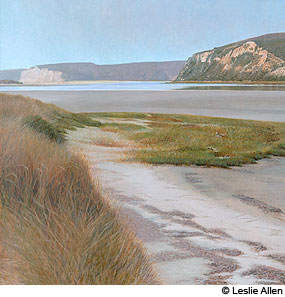 "Limantour Estero Paintings"
July 8, 2011, through September 30, 2011
Artist Leslie Allen's oil paintings of Limantour Estero were on display in the Red Barn Classroom weekdays from Monday, July 8, 2011, through Friday, September 30, 2011. There was also an artist's reception at the Red Barn Classroom on Sunday, July 31, 2011.
Mill Valley painter Leslie Allen's large-format oil paintings feature views from and within Limantour Estero, just south of Drakes Estero, on Point Reyes. They are recollections of one blissfully warm and windless, very low-tide afternoon in September. They are also faithful and lovingly rendered, authentic representations of the particular ecology and natural history of this extraordinary place.
"My goal is to distill that sense of spacious calm, to declare my reverence for this interface between the ocean and the earth. I have observed that in seeking the subtle patterns in nature, they become apparent only with prolonged looking, which gradually becomes deeper seeing."
-- Leslie Allen