Although most visitors consider Point Reyes National Seashore to be primarily a park at which to enjoy the outdoors, there are three Visitor Centers in which one can find shelter and learn more about Point Reyes during inclement weather. In the Visitor Centers, one will find informative exhibits about the natural and cultural history of the Point Reyes area. Please see our Visitor Centers page to learn more about the Bear Valley, Kenneth C. Patrick and Lighthouse Visitor Centers. Or visitors with an appointment are welcome to check out the artwork that is on display in the Red Barn Classroom.
During inclement weather, visitors may also wish to visit the Jack Mason Museum in Inverness or the Bolinas Museum in Bolinas. There are also numerous art galleries in the vicinity.
Visitors may also request and view a number of audio-visual programs at the Bear Valley Visitor Center.
Bear Valley Visitor Center Auditorium
Now Showing:
"Point Reyes: The Point of Kings" - Point Reyes Orientation (16 minute video)
"Enchanted Shore" - Inspiring Images of the Seashore (20 minute slide presentation)
"Something Special" - Point Reyes Orientation and Introduction (22 minute video)
"On a Barren Rock" - Point Reyes Lighthouse History (11 minute video)
"A Spark of Life" - 1995 Vision Fire (12 minute video)
"Welcome to Kule Loklo" - Coast Miwok Indians (20 minute video)
"Cordell Bank: Blue Water Oasis" (15 minute video)
"Life at the Ocean's Edge" - Natural history of the threatened snowy plover and least tern (21 minute video)
"A Sheltered Sea - The Journey of the California Marine Life Protection Act" (23 minute video)
"Rebels With A Cause" - Preview of Kenji Yamamoto and Nancy Kelly's full-length documentary of the same name (22 minute video)
"This is America" - Preview of Ken Burns' 12-hour mini-series "The National Parks: America's Best Idea" which was broadcast on PBS in September 2009 (45 minute video)
Audio-visual programs are shown on request. Inquire at the desk about additional offerings.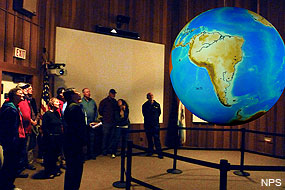 Science On a Sphere
Attend a presentation of the park's Science On a Sphere® (SOS) at the Bear Valley Visitor Center. SOS presentations may be offered as a "Ranger's Choice" program at 1:30 pm on weekends. Check the program schedule on our Schedule of Events: Weekend Ranger Programs page, or stop by or call the Bear Valley Visitor Center at 415-464-5100 x2 x5 to learn when the next SOS program will be offered. We also have a variety of SOS films which can be viewed at other times of the day.
Science On a Sphere® is a room sized, global display system that uses computers and video projectors to display planetary data onto a six foot diameter sphere, analogous to a giant animated globe. Researchers at NOAA developed SOS® as an educational tool to help illustrate Earth System science to people of all ages. Animated images of atmospheric storms, climate change, and ocean temperature can be shown on the sphere, which is used to explain complex environmental processes in a way that is simultaneously intuitive and captivating.
Red Barn Art Exhibitions
In 2003, Point Reyes National Seashore Association (PRNSA) established the art gallery in the Red Barn Classroom at Point Reyes National Seashore. Rotating painting, photography, and educational exhibits several times a year, themes of the selected shows reflect the natural or cultural aspects of the Seashore and surrounding area. PRNSA sponsors the Art Exhibitions and handles all art show sales, a portion of which supports the Point Reyes National Seashore Museum and Archives Research Services. For art sales, contact the PRNSA Business Manager at 415-663-1200 x302 or by email. If you are interested in exhibiting your art work in the Red Barn, download and submit the Red Barn Art Gallery Guidelines for Artists and Application for Exhibit (116 KB PDF).
The Red Barn art gallery is open by appointment only, weekdays, 9 am to 4 pm; closed weekends and holidays and as otherwise noted. Please contact Carola DeRooy at 415-464-5125 or by email to schedule an appointment or for more information. For most exhibitions, there is also an accompanying artist reception, which is open to everyone.
To get to the Red Barn Classroom, follow the directions to Point Reyes National Seashore. As you proceed up the access road toward the Bear Valley Visitor Center, turn left at the sign for the Red Barn Classroom.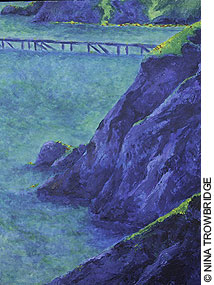 Reflections: Point Reyes National Seashore & West Marin
Exhibition: February 8 through March 31, 2016
Reception: Saturday, March 12, 2016, from 11 am to 4 pm
The subtle and deliciously rich colors of Point Reyes beaches and landscapes define these paintings by Nina Trowbridge. Her drawings are also full of grace and lines that remind us that the peninsula's foggy dreamscapes are as evocative as a sunny colorful day.
Earlier Red Barn Art Exhibitions have included: