Point Reyes Headlands Winter Shuttle Bus System

On weekends & holidays, Sir Francis Drake Boulevard is closed beyond the South Beach Road junction from 9 am to 5:30 pm during favorable weather conditions. Bus service to the Lighthouse & Chimney Rock is provided from Drakes Beach. More »
2014 Harbor Seal Pupping Season Closures

From March 1 through June 30, the park implements closures of certain Tomales Bay beaches and Drakes Estero to water-based recreation to protect harbor seals during the pupping season. Please avoid disturbing seals to ensure a successful pupping season. More »
Operational Changes Took Effect on May 1, 2013

The Lighthouse Visitor Center is now only open Fridays through Mondays; closed Tuesdays through Thursdays, including Thanksgiving. The Kenneth C. Patrick Visitor Center is open on weekends and holidays when shuttles are operating. More »
Science Lectures
Please join Point Reyes National Seashore staff for Science Lectures, 45 minute presentations on scientific research being performed at Point Reyes and elsewhere in the California. Science Lectures are sponsored by the Pacific Coast Science and Learning Center at Point Reyes National Seashore. They usually occur at noon on many Thursdays throughout the year and are normally held at the Red Barn Classroom at Point Reyes National Seashore's Headquarters. All are welcome and admission is free.
To get to the Red Barn Classroom, follow the Directions to get to the Bear Valley Visitor Center. After turning off of Bear Valley Road, proceed up the two-lane, paved driveway toward the Bear Valley Visitor Center. You will see the Red Barn on the left and after about 0.1 miles, there is a brown road sign pointing left to the Red Barn Classroom. Turn left on to the gravel driveway and proceed across the bridge to the parking lot. The Red Barn Classroom is on the end closest to this parking lot.
Upcoming Brown Bag Lectures: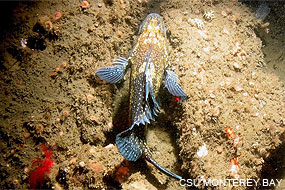 Date: Thursday, March 27, 2014
Title: "Marine Protected Area Monitoring at Point Reyes: Results from baseline remotely operated vehicle surveys"
Presenter: Dirk Rosen, Marine Applied Research (MARe)
Time: Noon
Date: Thursday, April 10, 2014
Title: "History of Tule Elk in Marin County"
Presenter: Frank Binney, Point Reyes Field Institute Instructor and Elk Program Volunteer.
Time: Noon
Our Brown Bag Lectures earlier this year included:
Date: Thursday, January 30, 2014
Title: "Climate Change, Invasions, and a Future for Tomales Bay Olympia Oysters."
Presenter: Brian Cheng, Bodega Marine Lab, UC Davis, and NPS George Melendez Wright Fellow

Date: Thursday, February 13, 2014
Title: "Living with Mountain Lions."
Presenter: Zara McDonald, Felidae Conservation Fund
Summary: California-based and globally-working wild cat conservationist Zara McDonald, Executive Director of Felidae Conservation Fund, gave an engaging and inspiring presentation about mountain lions and the work currently underway to study and protect them. Felidae Conservation Fund is a non-profit that aims to advance the conservation of wild cats and their habitats planetwide through a combination of groundbreaking research, compelling education and cutting-edge technology. Felidae's local project is the Bay Area Puma Project—the first large scale research, education and conservation program for mountain lions in and around the San Francisco Bay Area. These keystone predators (also called pumas and cougars) play a critical role in maintaining the health and biodiversity of our ecosystems. However, expansion of human populations is causing increasing encounters and conflicts between humans and pumas, and growing tensions in our local communities. Zara discussed mountain lion ecology and history, the challenges of sharing the habitat with mountain lions, and offered essential tips for living and recreating without fear in puma habitat.
Did You Know?

Elephant seals (Mirounga angustirostris) regularly plunge to depths of 2000 feet to find food, but even far below the ocean's surface they are affected by warming temperatures and melting Antarctic ice. More...