Park Wavelengths is a bi-weekly email informing subscribers about events, closures, natural history, and cultural history at Point Reyes. If you would like to subscribe to Park Wavelengths, please
email us
. Please include "Would like to subscribe to Park Wavelengths" in the subject field and include your email address in the message. Or...
Tuesday, August 18, 2015
Berries to watch for: the shrubs in front of the visitor center are coffeeberries. The fleshy reddish berries are food for local birds and are ripening on this native plant throughout the park.
Wonderfully colored caterpillars (fuzzy, black and reddish brown bands) are slowly walking the Earthquake Trail. They will eventually turn into night-flying tiger moths.
What's happened to the webcam? Expansion of the Lighthouse Visitor center exhibits has brought construction scaffolding and occasionally construction workers into the ocean view! The work is slated to end approximately mid-September and the camera will return to a good place to check fog conditions.
Coming as of September 1: the new free 4th grade pass program. Once the Every Kid in a Park website goes live, students will be able to complete activities online and then print a voucher to exchange for a one year free entrance pass to national parks.
Last chance to sign up for the West Marin Community Center and park sponsored blood drive on Friday, August 21 from 11 am to 3 pm at the Red Barn. Pre-registration is highly encouraged at www.bloodheroes.com.
Friday, July 31, 2015
Start looking for the Perseid meteor shower, which peaks on August 12 and which produces 50–75 meteors per hour at its peak. Viewing conditions this year are excellent as the shower occurs between the full and new moons.
Science staff have been observing 41 spotted owl sites in West Marin this year, with 34 nests occupied by pairs and four bachelor nests. Ten of the couples fledged 15 young—slightly lower numbers than 2014.
Weekend-only closures of the beach between North Beach and Abbotts Lagoon to better protect snowy plovers continue for August 1–2. July was a good month with 8 chicks fledging, three of which were banded. Banding birds will help science staff track their movements.
Late summer exotic flowers on the Bear Valley Trail include bright orange Crocosmia sp. from South Africa.
The projector at Bear Valley Visitor Center was repaired this week and the 15-minute introductory video is again available on request.
Thursday, July 30, 2015
Subject: Images of Eagle versus Osprey
Taken at the mouth of Drakes Estero. Osprey had a fish....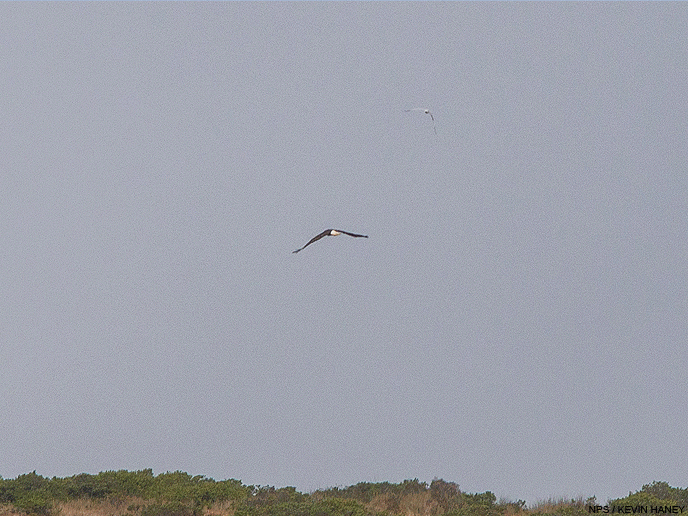 Tuesday, June 23, 2015
Forwarded to Park Wavelengths list from California State Parks at Tomales Bay
Subject: Coast Weeks-TBSP

See attached flyer. (49 KB PDF) [Flyer provides details about event occurring at Tomales Bay State Park on Saturday, September 19, 2015.]

Cathleen Cannon
Volunteer & Outreach Coordinator
Bay Area District Marin Sector
845 Casa Grande Road
Petaluma, CA 94954
707 769-5652 x225
in office Tues.- Thurs.-Fri.

CALIFORNIA STATE PARKS MISSION:
To provide for the health, inspiration and education of the people of California
by helping to preserve the state's extraordinary biological diversity,
protecting its most valued natural and cultural resources,
and creating opportunities for high-quality outdoor recreation.
For more information, visit www.parks.ca.gov.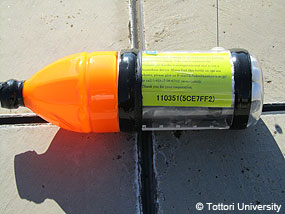 Wednesday, December 11, 2013
<snip>
Researchers from Tottori University in Japan are tracking tsunami debris by releasing brightly colored drift bottles (see photo to the right). If you come across one on local beaches, please follow instructions on how to contact the researchers.
<snip>