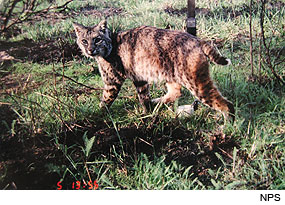 1. Why does the National Park Service monitor wildlife in the Seashore and how is it done?
The mission of the National Park Service, as specified in the Organic Act of 1916 is "to conserve the scenery and the natural and historic objects and the wild life therein and to provide for the enjoyment of the same in such manner and by such means as will leave them unimpaired for the enjoyment of future generations." Protecting wildlife within park boundaries is part of this mission. In order to best protect and conserve park wildlife, park managers and biologists require information on those species.
The information collected about wildlife in parks can be as simple as confirmation of the presence of a species or as detailed as the average number of young produced per female per year. Examples of data collected include descriptive data on wildlife behavior, disease prevalence and habitat selection and quantitative data on population size. Data can be used to inform managers on ways to further protect wildlife from human-induced stresses, such as pollution, introduced invasive species and disturbance.
There are a variety of methods for monitoring wildlife. Observers spend hours in the field recording data about wild animals. Aircraft are used in some parks to count large mammals such as elk, deer, and seals. Radio-telemetry, radios attached to individual animals, can be used to track animal movements, determine home range size and offer information on habitat use. Remote cameras can offer information about presence of wildlife species, numbers of individuals, behaviors and habitat selection.
At Point Reyes National Seashore, many different people monitor wildlife. National Park Service biologists, researchers from universities, scientists from other governmental agencies and trained volunteer "citizen scientists" all are involved in gathering important information on myriad animal species. Learn more about volunteer wildlife opportunities in the Seashore.