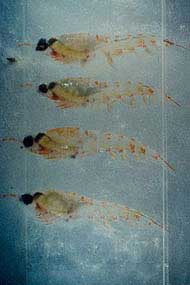 Shrimp, Crab, Lobsters, & Krill
Two-thirds of the crustacean species are represented in the large class Malacostraca. This class contains the most conspicuous species, many of which are commercially harvested. There are general qualities that apply to all animals within this class. They all have three segments with distinct segments within them. They swim with the appendages on their back segment (abdomen). They have specialized mouthparts called maxillipeds, and a two-chambered stomach, as well as a centralized nervous system.
Here in Point Reyes...
Krill, although rarely seen by visitors, can feed the occasional gray or blue whale passing by the tip of the peninsula. Many of the crustaceans that live here are important players in lower trophic levels of the ocean and are very small. However, there are plenty of big guys too. Many types of crabs (and their old shells) live here, such as the Pacific rock crab, Thick-Clawed Porcelain Crab, Pea Crab, and Pacific Mole Crab. Two types of barnacles that are common to find are the Gooseneck Barnacle and the White-acorn Barnacle.
These creatures are among the hardiest in nature, surviving for several hours each day out of the water and withstanding the intense pounding surf. However, they are not resistant against encroaching new species and they don't have a defense against curious humans. It is important to recognize that when these creatures are visible, they are also the most vulnerable and must be treated with respect.
Text by Kristen Truchinski