13 - Hands-on Area
This area provides a different type of museum experience. On the left is a working telegraph key and sounder. Try your hand at "sending" a message with the dots and dashes of Morse Code. For more information about the telegraph key, follow this

link to its page

in the Cultural History Mystery answers. Or, finish the museum tour and do the whole

Cultural History Mystery

.

On the counter in the back are family histories of some of the people who spent time at Pipe Spring. Some of the quotes in the museum came from those histories. Rangers and volunteers use the information to provide a better picture of life at Pipe Spring. Visitors are welcome to spend time perusing these personal histories.

The table to the right has changing objects to touch and play with. Most commonly it has a variety of pioneer children's toys.

Did You Know?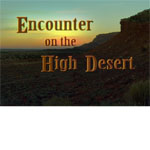 Pipe Spring National Monument has a new video! This video talks about the history and culture of the people who have utilized Pipe Spring: The Ancestral Puebloans, Kaibab Paiute, and the Mormon Pioneers. More...