Chapel Road

Chapel Road is flooding in a few places. For the 3.5 miles northwest of H58 the road is only passable with a four-wheel drive, high clearance vehicle. All other vehicles are sure to be stuck. With the wintery forecast, conditions will deteriorate.
Interagency Visitor Center schedule

The interagency visitor center in Munising will close at 1:30 p.m. on December 23 and 24. The visitor center will be closed on December 25 and January 1.
Visitor Centers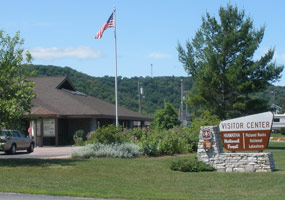 NPS photo
Pictured Rocks National Lakeshore
Hiawatha National Forest
Interagency Visitor Center

906-387-3700
400 East Munising Avenue, junction of state highway M-28 and county road H-58 in Munising.
Open year round, 9 a.m. to 4:30 p.m.
Closed Sundays and holidays from October until Memorial Day weekend.
Open daily during the summer months with extended hours.
Lakeshore visitors are encouraged to stop first the Interagency Visitor Center. Here you can obtain information on a variety of recreation resources in Pictured Rocks National Lakeshore, the
Hiawatha National Forest
, and the general area. The center also maintains schedules of interpretive activities presented by park and forest rangers.
The visitor center features attractive exhibits and a
Hiawatha Interpretive Association
sales area where visitors can purchase posters, clothing, and a variety of publications that will foster a greater understanding of the region.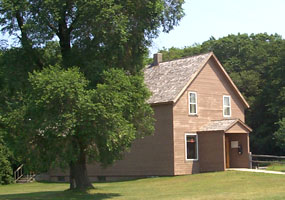 NPS photo
Grand Sable Visitor Center
906-494-2660
E21090 County Road H-58
One mile west of Grand Marais, Michigan, on county road H-58
Open daily from the Friday before Memorial Day through Labor Day, 9 a.m. to 5 p.m. May be open on weekends in May, September, and October.
Nestled at the foot of the
Grand Sable Dunes
, the Grand Sable Visitor Center is located near the eastern gateway to Pictured Rocks National Lakeshore and at the beginning of the park's segment of the
North Country National Scenic Trail
.
A park ranger is on duty to assist hikers, backpackers, and nature enthusiasts with information geared at making their stay more enjoyable. The lakeshore's cooperating association,
Eastern National
, operates a bookstore here.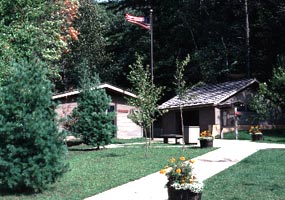 NPS photo
Munising Falls Visitor Center

1505 Sand Point Road, Munising

The visitor center is closed in 2013 due to budget constraints.
The restrooms are open (except during the winter months.)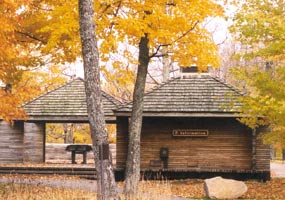 NPS photo
Miners Castle Information Station
No phone

N9319 Miners Castle Road, 6 miles north of county road H-58 at Miners Castle

Open daily from the Friday before Memorial Day through Labor Day, 9 a.m. to 5 p.m. May be open on weekends in May, September, and October.

At Miners Castle, there are paved trails to several overlooks, wayside exhibits, restrooms, and access to the North Country Trail National Scenic Trail. The Miners Castle Information Station includes a small Eastern National bookstore.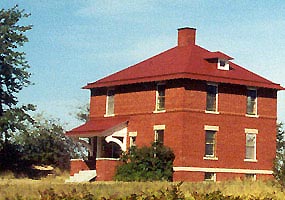 NPS photo by Ed Lasich
Au Sable Light Station Information Center

No phone
Located at the Au Sable Light Station, 12 miles west (drive) of Grand Marais to the
Hurricane River Campground
then 1.5 miles (walk) east.
Typically open from mid-June through Labor Day, closed Monday and Tuesday, 10 a.m. to 5 p.m.
This information center features the history and current operation of the
Au Sable Light Station
. Guided tours of the double keepers quarters and light tower are available during July and August. There is a small fee for the guided tour.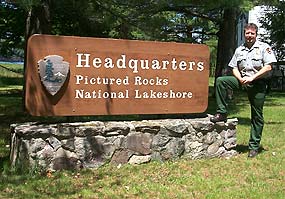 NPS Photo by Tim Colyer
Lakeshore Headquarters
906-387-2607

N8391 Sand Point Road, 4 miles NE of Munising

Open year-round, Monday to Friday,
8 a.m. to 4:30 p.m.

Park Headquarters is located in the former Munising U.S. Coast Guard Station at Sand Point. In the summer, the boathouse is open with maritime displays including a 36-foot self-righting motor lifeboat. The Sand Point Marsh Trail is located nearby.



Did You Know?

Mineral stains give color to the famous cliffs of Pictured Rocks National Lakeshore. Red and orange colors are iron, black is manganese, white is limonite, and green is a trace of copper. There are no pictographs or petroglyphs on the Pictured Rocks cliffs (that we know of). More...