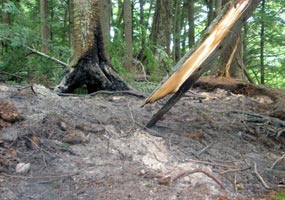 NPS photo / Amber Tembreull
Campfire Etiquette

- Keep your fire in the fire ring provided. If there is no fire ring, fires are prohibited.
- Use only down and dead wood.
- Keep your fire small.
- Never leave a fire burning when you leave the site. Dowse it with water.
- Report illegal fires to a park employee.
Metal campfire rings are available at each campsite in the lakeshore's drive-in campgrounds. Backcountry campgrounds (except Mosquito River and Chapel Beach) have a campfire ring to be shared among the campers. Firewood is scarce; we suggest you use a small backpacking stove.
Standing grills are available at picnic areas such as at Sable Falls and Miners Castle. Privately owned grills may be used in parking lots and on beaches as long as no fire or burning material touches the ground.
Please help us reduce the impacts of fire on the park. if you must have a fire, be sure to keep it small and use down and dead wood only. And be sure that a fire is permitted in the area you are enjoying.