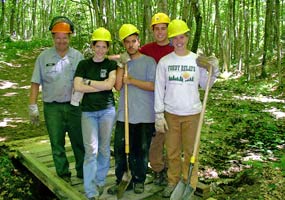 NPS photo
Volunteering is an American tradition that has made an immeasurable contribution to communities, organizations, and individuals throughout the country. Today's volunteers are active, dynamic, creative individuals who possess the skills, desire, patience, and time to accomplish a wide variety of tasks.

Volunteers-In-Parks are Very Important People (VIPs)! VIPs come from all over the country to help preserve and protect America's natural and cultural heritage for the enjoyment of this and future generations. Volunteers of all ages give of their time and expertise to help achieve the National Park Service mission.

Please consider volunteering your time and talent at Pictured Rocks National Lakeshore. You will enjoy putting your skills to work in this beautiful setting, and you will meet many other fine people who have similar interests.

Please contact our Volunteer Coordinator to match your interests, skills, and time availability with the wide variety of volunteer projects available.

We are grateful for the generosity and dedication of so many volunteers who contribute their time and skills to making Pictured Rocks National Lakeshore the beautiful, educational destination that it is today. In Fiscal Year 2005, volunteers donated 4,572 hours to Pictured Rocks National Lakeshore.

When Can We Volunteer?
Most volunteer activity occurs from May through October, the busiest time of the national lakeshore's visitor season. Some folks volunteer in the winter for ski trail condition reporting and visitor contact.

What Do Volunteers Do?

Volunteers have assisted park staff in each operational division, though most volunteers assist in the maintenance, visitor services, interpretation, and science divisions.
Adopt-a-Trail, Adopt-a-Campsite, Adopt-a-Beach

Backcountry patrol, monitoring, and informal interpretation
Campground Hosts at Hurricane River and Twelvemile Beach Campgrounds
Clean-up efforts such as trash pickup
Exotic plant monitoring and eradication
Planting native plants
Monitoring endangered species (e.g. piping plover)
Backcountry trail construction and maintenance
Ski trail monitoring
Au Sable Light Station interpretation
Visitor center desk staffing
Photography projects
Manual labor to stabilize and rehabilitate historic structures and landscapes.
Current Volunteer Opportunities

How Long May I Volunteer?
Your contribution depends on the type of work and the time you have to offer. Scout groups often complete one or two day work projects as they hike the lakeshore's segment of the
North Country National Scenic Trail
. Organized volunteer trail crews from universities or other organizations normally work a week or more in the park. Campground hosts are asked to sign up for a minimum four week stay. Student Conservation Association aides generally stay for about two months.
Volunteers are provided a VIP uniform and protective gear if required. A small stipend may be available to reimburse for travel and food expenses. Housing may be available for long-term volunteers. Most volunteers work an eight hour day.
Please refer to the
VIP recruiting site bulletin
for more information.
How Do I Become A VIP?
Send your resume, interests, and availability dates to the Volunteer Coordinator, or call for further information. You may also apply on-line at www.volunteer.gov.

Volunteer Program Coordinator
Pictured Rocks National Lakeshore
P.O. Box 40
Munising, MI 49862
906-387-3700 or 906-387-2607 voice
906-387-4025 or 906-387-4457 fax
email

For further information on volunteering, check out these websites.

www.nps.gov/volunteer - National Park Service
www.volunteer.gov - Volunteer Opportunities throughout the U.S.
www.thesca.org - Student Conservation Association
www.americanhiking.org - American Hiking Society - Volunteer Vacations
www.sierraclub.org - Sierra Club - Outings
www.scouting.org - Boy Scouts
www.girlscouts.org - Girl Scouts