Pipestone National Monument, when it was established in 1937, inherited a tallgrass prairie ecosystem that had changed little from prehistoric times. While some areas have been restored, a significant portion of the tallgrass prairie within Pipestone National Monument is native prairie - prairie that has never been plowed.
Because the climate in which tallgrass prairie occurs naturally is also favorable to agriculture, much of the tallgrass prairie today has been converted to farm fields of one kind or another. Only a tiny sliver of the tallgrass prairie remains, less than 1 or 2% of the former range. Some of that prairie is within Pipestone National Monument.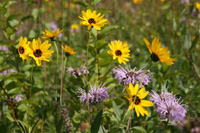 NPS Photo by Nathan King
The tallgrass prairie ecosystem contains over 70 types of grasses and hundreds of plants in total. As the seasons change, so do the wildflowers. At any time during the growing season, visitors to Pipestone can enjoy the rich variety of plant life in the park, and all the insects, birds, and mammals the vegetation supports. Learn more about Plants and Animals.
What might you see on a visit? Birds such as bobolinks, grasshopper sparrows, kingbirds, clay-colored sparrows, and western meadowlarks, among many others, live in the tallgrass prairie. In the summer months, these birds seek out the grasslands of Pipestone for nesting and finding food. Mammals such as white-tail deer and thirteen-lined ground squirrels browse on the vegetation in the prairies. If you are lucky, you might just catch a glimpse of a garter snake or a snapping turtle laying eggs in the summertime.