Pilot Fishing Program Closed Until Further Notice

The three miles of the Pecos River inside the park remains closed to public use. Public access to the river inside park boundaries is determined by condition of the resource. Please click "More" to link to the fishing page and additional information. More »
Volunteer
Volunteers-in-Parks (VIP) program
Please click here to access the NPS brochure describing how to volunteer and help protect the special places in the national park system.
For details on current openings at Pecos National Historical Park, please contact:
Volunteer Coordinator
Pecos National Historical Park
PO Box 418
Pecos, NM 87552

Or if you would like to speak with a ranger about volunteer opportunities at the park, please call (505) 757-7211. Thank you for your interest!


Did You Know?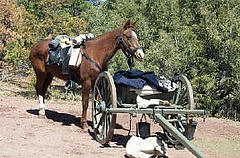 Confederate plans to advance west were thwarted at the Battle of Glorieta Pass when Union troops burned Confederate supply wagons at Johnson's Ranch. Henry Sibley wanted to advance north into the gold mines of Colorado and continue west to put Confederates in control of seaports in California.