Volunteer
Volunteers-in-Parks (VIP) program
Please click here to access the NPS brochure describing how to volunteer and help protect the special places in the national park system.
For details on current openings at Pecos National Historical Park, please contact:
Volunteer Coordinator
Pecos National Historical Park
PO Box 418
Pecos, NM 87552

Or if you would like to speak with a ranger about volunteer opportunities at the park, please call (505) 757-7211. Thank you for your interest!


Did You Know?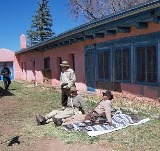 The Civil War Battle of Glorieta Pass was fought at Apache Canyon, Canoncito, and Pigeon's Ranch near Glorieta, NM. The photo depicts Texas Volunteers (living history participants) resting near Kozlowski's trading post at Pecos National Historical Park.