Join Our Friends
The Friends of Pecos National Historical Park
The Friends of Pecos National Historical Park is an independent non-profit organization dedicated to supporting and assisting the mission of the park.

The goals of the Friends are:
To cultivate a general membership of people and organizations eager and willing to help support the work of the park
To develop projects in cooperation with the Park staff
To raise funds for purposes identified by Park staff and mutually agreed to by the Friends
To serve as liaison between the Park, surrounding communities and appropriate organizations
If you would like to contact the Friends of Pecos National Historical Park, please send inquiries to:
The Friends of Pecos NHP
PO Box 23
Pecos, NM 87552

Did You Know?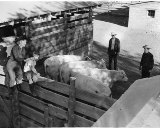 Oscar-winning actress Greer Garson and her husband Col. E.E. Fogelson owned the Forked Lightning Ranch. They donated 300 acres in 1965 for the creation of Pecos National Monument, money in 1983 for construction of the Visitor Center, and land for the designation of Pecos National Historical Park.