Pilot Fishing Program Closed Until Further Notice

The three miles of the Pecos River inside the park remains closed to public use. Public access to the river inside park boundaries is determined by condition of the resource. Please click "More" to link to the fishing page and additional information. More »
Join Our Friends
The Friends of Pecos National Historical Park
The Friends of Pecos National Historical Park is an independent non-profit organization dedicated to supporting and assisting the mission of the park.

The goals of the Friends are:
To cultivate a general membership of people and organizations eager and willing to help support the work of the park
To develop projects in cooperation with the Park staff
To raise funds for purposes identified by Park staff and mutually agreed to by the Friends
To serve as liaison between the Park, surrounding communities and appropriate organizations
If you would like to contact the Friends of Pecos National Historical Park, please send inquiries to:
The Friends of Pecos NHP
PO Box 23
Pecos, NM 87552

Did You Know?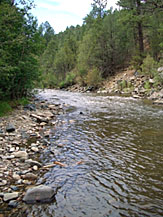 The "historical park" designation generally applies to NPS sites that extend beyond single properties or buildings. Pecos National Historical Park interprets Spanish colonialism, pueblo culture, natural history of the Pecos Valley, the Santa Fe Trail, the Civil War, and the ranch history of northern New Mexico.