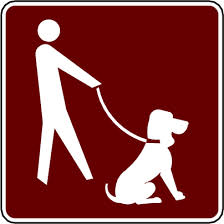 Leashed pets are allowed on trails. Pets are not permitted inside public buildings with the exception of service animals on a leash.
Important!
Heat can be deadly for pets. Car temperatures rise quickly in the sun, even on cool days. If you leave a pet in a car, crack the windows as much as possible and leave water to drink. We recommend you not leave pets in the car at all, even with the windows cracked, when temperatures are above 68 degrees.
Please remember when you bring your pets to the park:
Keep your pet on a leash on the trails and under control*
Clean up after your pet and dispose of waste in a trash receptacle
Bring plenty of water for yourself and pet
Ensure your pet never chases wildlife or digs holes
NEVER leave your pet unattended, tied to an object, or in a car without ventilation or water**
*Why must pets be on a leash inside the boundaries of Pecos National Historical Park?
For your pet's safety (vehicles in the parking lot, other animals).
For the safety of others (many visitors are uneasy around loose pets; please respect the rights of others who may have a fear of your pet--even a friendly one).
For the protection of wildlife (unleashed pets chase birds and other wildlife).
**Remember, there is very little shade on the Ruins Trail and pets are not allowed in buildings, so please bring plenty of water!

Photo by Sarah Blatter