Gateway to the Plains
In the midst of piñon, juniper, and ponderosa pine woodlands in the Sangre de Cristo Mountains not far from Santa Fe, the remains of an Indian pueblo stand as a meaningful reminder of a people who once prevailed here. Now a national historical park demonstrates to modern visitors the cultural exchange and geographic facets central to the rich history of the Pecos Valley.
Did You Know?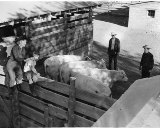 Oscar-winning actress Greer Garson and her husband Col. E.E. Fogelson owned the Forked Lightning Ranch. They donated 300 acres in 1965 for the creation of Pecos National Monument, money in 1983 for construction of the Visitor Center, and land for the designation of Pecos National Historical Park.