Gateway to the Plains
In the midst of piñon, juniper, and ponderosa pine woodlands in the Sangre de Cristo Mountains not far from Santa Fe, the remains of an Indian pueblo stand as a meaningful reminder of people who once prevailed here. Now a national historical park demonstrates to modern visitors the cultural exchange and geographic facets central to the rich history of the Pecos Valley.
Did You Know?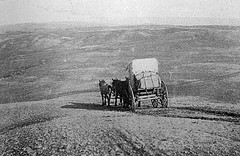 From 1821 to 1880, the Santa Fe Trail was a major commerce and travel route from Independence, MO to Santa Fe, NM. The trail took traders many weeks to traverse in often inhospitable conditions. Today visitors to the park can see trail evidence and in the summer months, take a ranger-guided tour of ruts and a structure that was a popular stage stop on the trail.