Pilot Fishing Program Closed Until Further Notice

The three miles of the Pecos River inside the park remains closed to public use. Public access to the river inside park boundaries is determined by condition of the resource. Please click "More" to link to the fishing page and additional information. More »
History & Culture
Between the Sangre de Cristo mountains and the Glorieta mesa lies the Glorieta Pass, through which a continuously unfolding story of human culture has travelled to and from the Pecos Valley for thousands of years.
Pueblo and Plains Indians, Spanish conquerors and missionaries, Mexican and Anglo armies, Santa Fe Trail settlers and adventurers, tourists on the railroad, Route 66 and Interstate 25...the Pecos Valley has long been a backdrop that invites contemplation about where our civilization comes from and where it is going.
Thousands of years of this rich history is preserved for visitors to Pecos National Historical Park.


Did You Know?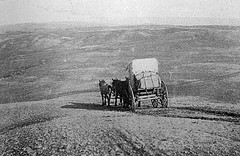 From 1821 to 1880, the Santa Fe Trail was a major commerce and travel route from Independence, MO to Santa Fe, NM. The trail took traders many weeks to traverse in often inhospitable conditions. Today visitors to the park can see trail evidence and in the summer months, take a ranger-guided tour of ruts and a structure that was a popular stage stop on the trail.