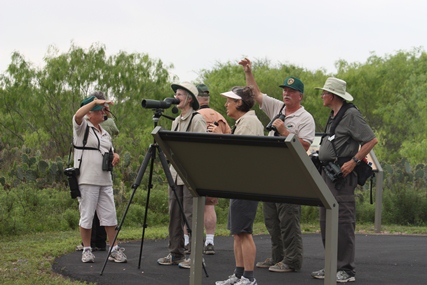 NPS
Birds, birds, birds
The abundance of wildlife makes the battlefield an attractive spot for nature lovers. Bird watching has become a particularly popular pastime at the park. Visitors have spotted birds of prey like the Harris Hawk, Aplomado Falcon as well as colorful species like the Roseate Spoonbill.
As the park continues to make more of the battlefield accessible to the public, it seems certain the site will draw many bird watchers and nature enthusiasts. Their numbers may even rival those who visit for the site for its historical importance.
Finding balance
This situation creates an interesting dilemma for park management. As a unit of the National Park Service, Palo Alto is dedicated to appropriately documenting, protecting, and managing the natural resources on the site. As a National Historical Park, however, the park must place an emphasis on the historical importance of the site.
Any activities to manage or restore habitat and wildlife must be planned carefully, to ensure well-meaning projects do not have a negative effect on the historical and archaeological features of the battlefield.