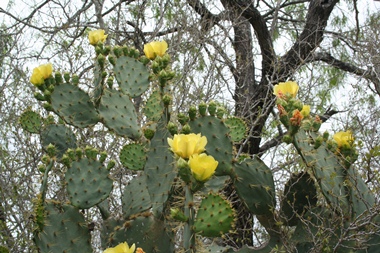 NPS
All In a Name
Tuna
is the Spanish word for the fruit of the prickly pear cactus. This cactus is well known for its colorful blooms which come in shades of yellow, orange, peach, and red. When the blooms fade, the sweet fruits or
tunas
develop. The pads, also known as
nopalitos
, are edible as well - once the spines have been removed. Both of these items can be found at local grocery stores.
A Growing Presence
Although native to the region, the cactus is more common now than in the past. The spread of prickly pear at Palo Alto is the result of decades of activities such as cattle ranching and ground clearing.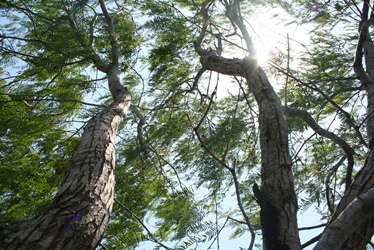 NPS
South Texas stalwart
Mesquite trees and South Texas go hand in hand. The rugged plant is one of the few trees that does well in the area's hot, dry climate. When the trees are young they are flexible enough to bend in the coastal winds. Their sharp thorns protect them from grazing animals. As the trees mature, their trunks and branches grow rigid and dense.
Battlefield Encroachment
Today, numerous dense pockets of mesquite dot the battlefield. This was not the case in 1846. The battlefield then was an open prairie, a perfect place for an artillery battle. Over the years, activities like cattle ranching have helped mesquite spread onto the prairie. The park is currently working on a mesquite management plan in the hopes of restoring the battlefield to its original state.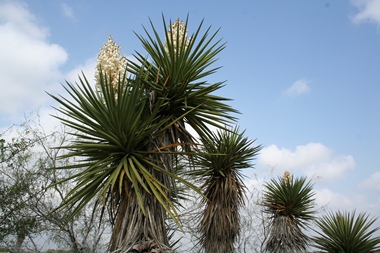 NPS
Sharp As a Dagger
The yucca is a formidable looking plant grows throughout much of South Texas. Yucca can reach heights of up to 20 feet. Its pale blooms mature from December to April. Their sharp pointed leaves offer a safe haven from predators for various bird species.
Be Careful
Take proper precautions around yucca or you will quickly find our why they also call it Spanish Dagger. Its sharp leaves can easily pierce through clothing and skin. Ouch!