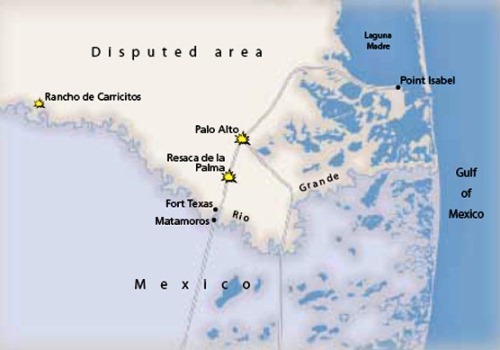 Palo Alto Battlefield (public domain)
Rancho de Carricitos
A brief skirmish at the tiny settlement of Rancho de Carricitos, ignited a two-year war between the United States and Mexico.
Fort Texas
During the six-day siege, American defenders of Fort Texas withstood a heavy Mexican bombardment with limited casualties. One of those killed was Maj. Jacob Brown, for whom the post was renamed. The city of Brownsville, Texas, grew up around it.
Palo Alto
Gen. Mariano Arista expected the open prairie of Palo Alto to favor his larger army and his cavalry. Instead, the power and mobility of U.S. artillery placed him at a disadvantage.
Resaca de la Palma
The battle of Resaca de la Palma was primarily an infantry clash in dense thickets. A cavalry charge by Capt. Charles May's dragoons, however, captured both Mexican Gen. Rómulo Díaz de la Vega and the American imagination.