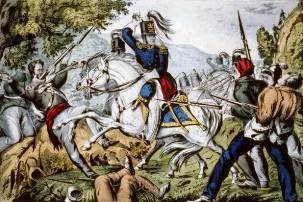 Library of Congress (no known restrictions)
The first clash
Rancho de Carricitos was a large farm field fenced in by high, impenetrable chaparral thickets that gave the location its name. The ranch was located on the north bank of the Rio Grande, some 28 miles upriver from the U.S. post, Fort Texas. On the morning of April 25, 1846, Captain Seth Thornton's party of U.S. Dragoons approached this ranch, looking into reports that a large force of Mexican troops had crossed the river the previous day. Spotting a small cluster of houses within the clearing, the 63 men decided to investigate. They located a narrow break that served as the only gate through the brush, and proceeded toward huts at the far end of the field.
A Mexican force had indeed crossed the river. The previous day, Mexican General Anastasio Torrejón led almost 1,600 cavalry and infantry troops over the Rio Grande and took up a position on the north bank. From this point, Torrejón marched east, responding to his own scouting reports of Thornton's approach.
Setting the trap
When Mexican troops arrived at Rancho de Carricitos, they located the Americans inside the fenced field. Unseen by the U.S. party, Torrejón first sent portions of his force to surround the field and close off any escape routes through the brush. Then, he ordered infantry troops to march through the gateway and form lines to block the exit from the ranch.