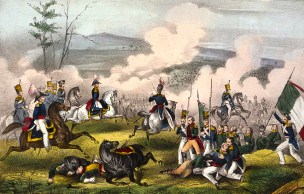 Library of Congress (no known restrictions)
Natural battlefield
The plain of Palo Alto was a natural battlefield. A low-lying, coastal prairie ringed by tree covered rises that inspired the Spanish name, "Tall Timber." Crossing this expansive field was the Matamoros to Point Isabel Road-the route followed by Zachary Taylor's body of 2,300 men and 400 wagons.
In the early hours of May 8, 1846, General Mariano Arista led his 3,200 men onto this field. The Mexican general set his cannons on the roadway to block the U.S. advance. He also lined infantry troops and additional artillery across the prairie. On either end of this mile-long line he positioned his cavalry. Using this formation, Arista hoped to flank and engulf the approaching U.S. troops.
Taylor's arrival
General Taylor arrived at Palo Alto around midday on May 8. As the U.S. troops marched out of the cover of mesquite thickets at the northern edge of the field, they paused to entrench their supply train, then advanced to within 700 yards of the Mexican lines. The stage was set.
The battle begins
When the Mexican cannon began firing, U.S. troops assumed battle formation, but did not advance to engage Mexican forces. Fearing a charge would leave his supply train vulnerable to attack, General Taylor held his infantry and cavalry in a defensive formation and rolled artillery forward to respond. Most notable was his use of 18-pound siege cannons, originally intended for duty at Fort Texas. The devastating fire of these huge guns tore at the Mexican lines, causing numerous casualties. By contrast, the Mexican artillery was much less effective and continually fired short of the U.S. lines.
Arista responds
Arista attempted to answer by sending cavalry troops against the right side of the U.S. line. General Anastasio Torrejón's lancers swept across the western edge of the field, but soon became bogged down by the uneven ground and dense growth. By the time the charge reached its destination, the U.S. 5th Infantry had positioned itself to repel the attack. Torrejón's horsemen regrouped and attempted an attack on the U.S. supply train, but were turned back again. This time Taylor's light artillery provided support against the charge.
Torrejón's withdrawal to the Mexican line permitted U.S. forces to move forward along the road. But, continued concern for the supply train and a grass fire that erupted in the middle of the field prevented a full advance. As heavy smoke from the fire brought shooting to a halt, the U.S. advance amounted to little more than a rotation of the battle lines.