International Border Vehicle Barrier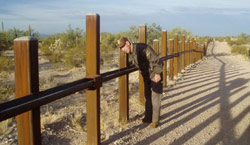 In 2004, Organ Pipe Cactus National Monument undertook the work of constructing a vehicle barrier along the south boundary at the Mexico border. It stretches 30 miles of our southern boundary.
The barrier was designed to stop vehicles from driving around the US customs offices in Lukeville on Hwy 85, or up through the desert wilderness instead of using Hwy 85.
In 2006, the NPS finished building this steel fence. Although this three-year construction project was costly, the natural and cultural resources it has protected are priceless, not to mention visitor safety, officer safety and our national security.
Before the vehicle barrier was constructed, vehicles were driving into the U.S. illegally and then across country through the national monument. Several hundred miles of off-road vehicle routes were documented in 2004; resource damage was severe.
The good news is, the vehicle barrier has stopped nearly all off-road vehicle traffic through Organ Pipe Cactus National Monument. The barrier has not been breached and monitoring has revealed a dramatic decline in illegal off-road vehicle activity.


Did You Know?

Kangaroo Rats are masters at desert survival. They get all the moisture they need from the seeds and plants they eat and don't need to drink any water. Their kidneys are so powerful at recycling the moisture they do get from plants and seeds, they have been known to urinate crystals. More...