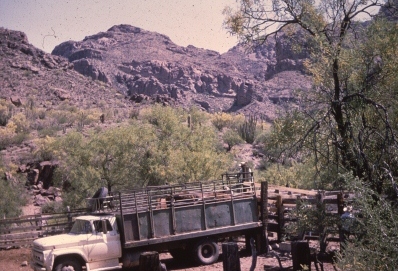 NPS Photo
When the Monument was established in 1937 great controversy surrounded the question of whether to continue to allow grazing permits, and what the carrying capacity was for the range. The Gray family originally received annual permits to graze 550, and a few years later a 1,050 head of cattle. These grazing permits were canceled in the 1960's, and in the last roundup over 1,700 cattle were counted. The final cattle were removed from Organ Pipe Cactus in 1972, effectively ending the cowboy era of the Monument. The prolonged ranching period had a great effect on the desert ecosystem. Wild grasses were nearly eaten towards extinction. Small cacti were trampled out of the ground. These effects can still be witnessed today, over 30 years since the last roundup.
To the ranchers, this was a way of life. They would wake up before dawn, clean the corrals, and herd the cattle sometimes over 16 miles each day to the nearest water source. It was a tough, but necessary lifestyle.
Today if you explore the Monument, many of the roads and trails you travel on are old ranching roads leading to isolated line camps or wells. Beyond this evidence of desert ranching, further evidence of cattle in the Monument is seen in the many areas that are still recovering from overgrazing. While visiting these sites, one can almost be transported back to the cowboy days of Organ Pipe Cactus National Monument.