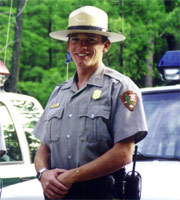 In 1995 Kris accepted a position with the National Park Service at Great Smoky Mountains National Park tracking wild boar and bears. He later served as an Law Enforcement Ranger at Sleeping Bear Dunes National Lakeshore and Canyonlands National Park before arriving at Organ Pipe Cactus National Monument in 2000.
He was elected president of his class at the Federal Law Enforcement Training Center where he graduated at the top of his class and received the Director's Award for outstanding achievement.
Kris took great pride in his daily work providing for visitors' safety and protecting our nation's heritage. As a National Park Ranger, Kris enforced Federal and State Laws while at the same time performing as an emergency medical technician, wildland and structural firefighter, and search and rescue team member.