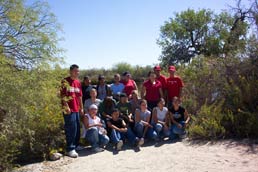 Education is a strong focus at Organ Pipe Cactus National Monument. You can plan a field trip, communicate with the Ranger staff, or design your own project. There is always something to do. If you are interested in setting up a field trip to the monument contact us at 520-387-6849 ext. 7302.
Educational Entrance Fee Waiver: Accredited school groups that are planning to visit the park for primarily educational purposes may apply for an entrance fee waiver. The educational content of your trip must relate directly to the resources of Organ Pipe Cactus National Monument in order to qualify. To apply, download and fill out an Educational Fee Waiver Form. Form must be received at least two weeks prior to your visit. When complete, return it via email to the address on the form, fax it to (520) 387-7475, or mail it to: Fee Supervisor, Organ Pipe Cactus National Monument, 10 Organ Pipe Dr, Ajo, AZ 85321. Questions may be directed to: Fee Supervisor, (520) 387-6849, or e-mail us.

One of the easiest ways to learn about this desert wilderness is the VIEWS project. It is a national effort to make national parks and the resources in them available to teachers and classes all over the world. Organ Pipe Cactus National Monument is featured in both the Sonoran Desert unit and the Wilderness unit. .