Road Work, Expect Delays

ODOT will be preparing highway 46 for asphalt patching. Please use caution when traveling between the monument and Grayback Campground. Various work will be from continue until July 31, 2014.
Watch for Wildlife

Please be on the lookout for fawns on the section of Caves Highway around Caves Campground! There is at least one very young one that is using the pavement as his transportation corridor.
Winter Weather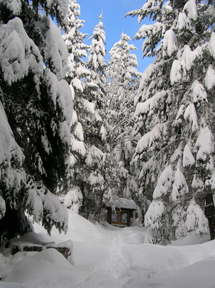 Derek Marohn, NPS
Winter Weather Driving Advisory
If you are traveling to Oregon Caves during October through April, be aware of the snow hazards predicted. Visit NOAA for more information, and call or e-mail Oregon Caves regarding snow conditions. If you do drive up to the Monument, it is recommended that you carry chains or have traction tires. Be aware that tours are seasonal and are not offered from late fall to mid-spring. However, Oregon Caves National Monument is always open to visitors. Occasionally in winter, snow can temporarily close park roads until they are plowed.
Did You Know?

Carbon dioxide mixes with water that condenses on the wall of the cave to create a very weak acid. Over long periods of time this "acid dew" eats away at the marble walls of Oregon Caves making the cave larger.