Cave Tours Closed for Season

Cave Tours are closed for the winter. Tours will resume April 26, 2014. All trails on the monument remain open.
Road Work

Crews are removing brush along highway 46 beginning in the lower parking lot and moving down the highway. Work is scheduled to last until April 20, 2014; expect delays.
Winter Weather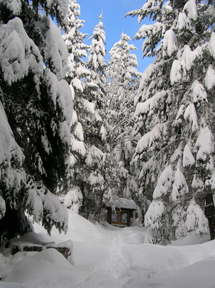 Derek Marohn, NPS
Winter Weather Driving Advisory
If you are traveling to Oregon Caves during October through April, be aware of the snow hazards predicted. Visit NOAA for more information, and call or e-mail Oregon Caves regarding snow conditions. If you do drive up to the Monument, it is recommended that you carry chains or have traction tires. Be aware that tours are seasonal and are not offered from late fall to mid-spring. However, Oregon Caves National Monument is always open to visitors. Occasionally in winter, snow can temporarily close park roads until they are plowed.
Did You Know?

Computer bugs, slang for something gone wrong in a program, are actually named for a real insect. In 1947, technicians working for computer scientist Grace Hopper found a moth inside her computer. The trapped moth was making the machine malfunction. Once removed, they reported that the computer was "debugged". They taped it onto her notes with a little joke that is now part of our everyday language.