Operating Hours & Seasons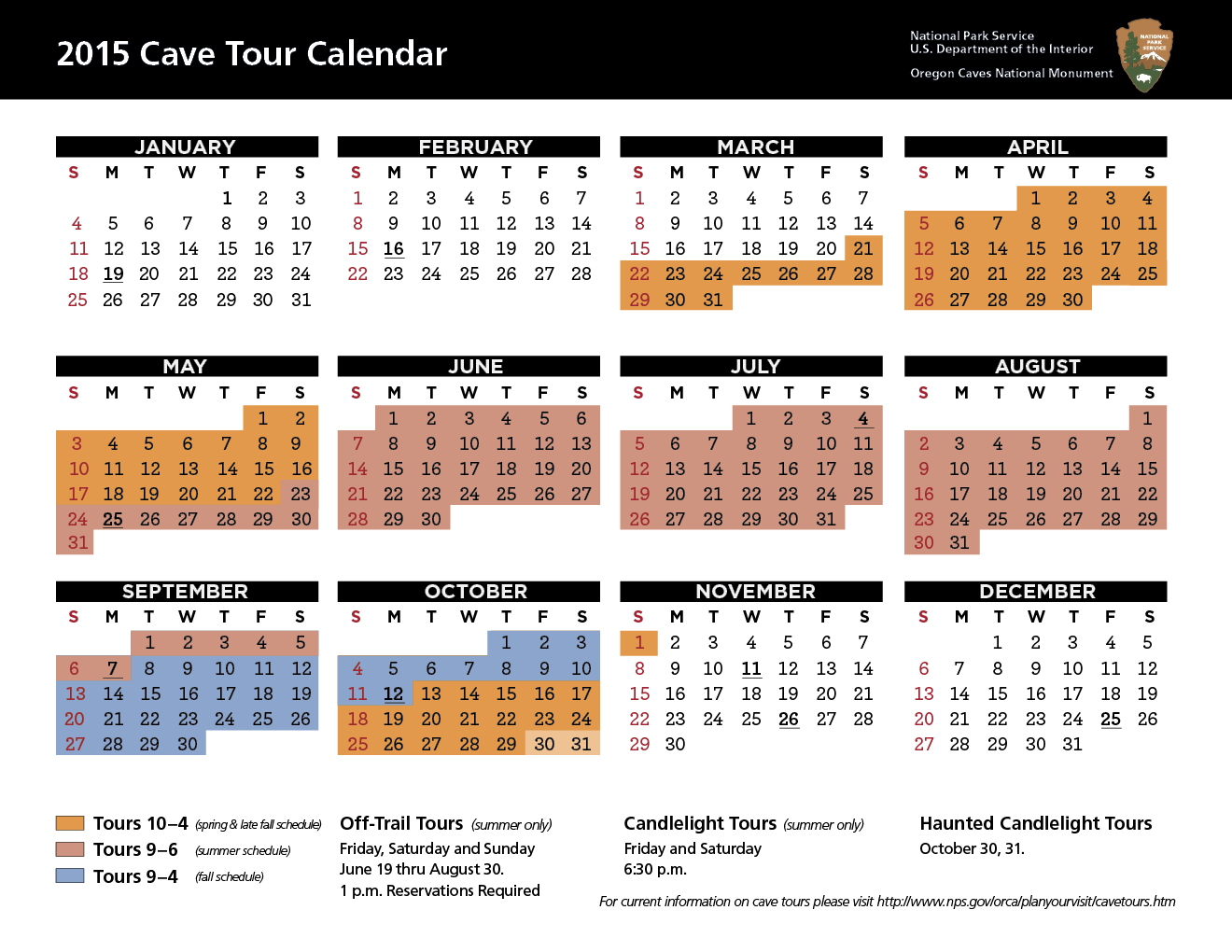 Visit Oregon Caves!
Tickets are sold only on the Monument and are sold on a first-come, first-serve basis. Cave tours last 90 minutes.
Cave Tour Season
Download the 2015 Calendar
Spring* March 21 - May 22: 10 am - 3 pm

Summer** May 23 - September 7: 9 am - 6 pm
Candlelight Tours: 6:30 pm Fridays & Saturdays
Off-Trail Tours: June 2015 - September 2015. Reservations are required. Click here for reservations.

Fall*
September 8 - October 12: 9 am - 4 pm
Haunted Candlelight Tours: Offered in October. Check here for details.

Late Fall
October 13 - November 1: 10 am - 4 pm
Caves tours are not offered from late fall to mid-spring. However, Oregon Caves National Monument is always open to visitors. Occasionally in winter, snow can temporarily close park roads until they are plowed.

*Please note that during the spring and fall seasons, tour schedules are subject to change due to weather or other unforeseen events.

**Wait times can reach up to two (or more) hours during the summer season. The busiest times are between 11 am & 3 pm. We encourage you to arrive 2 hours before your desired cave tour time.
Oregon Caves Visitors Center at the Monument
The Visitor Center is open whenever cave tours are offered. Hours are as follows:
Spring & Fall: 9:30 am to 4:00 pm
Summer: 8:30 am to 6:00 pm
Winter: Closed