Cave Tours Closed for Season

Cave Tours are closed for the winter. Tours will resume April 26, 2014. All trails on the monument remain open.
RV & Travel Trailer Parking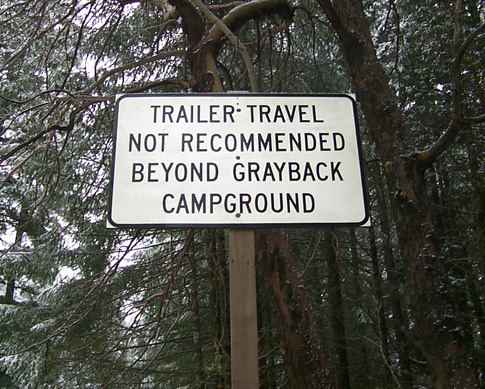 Travel trailers and large RVs are not recommended beyond Grayback campground (mile post 12) due to the winding road to the Monument.
Park your RV or Travel Trailer
If you have a large RV or travel trailer, park it (for free) at the Illinois Valley Visitor Center (IVVC) in Cave Junction which is located on Hwy 46 at 201 Caves Highway, Cave Junction, OR 97523. This is just a short distance from Hwy 199 intersection in Cave Junction. Call (541) 592-4076 for more information.
There are also two campgrounds located on Highway 46 that will accommodate recreational vehicles and trailers overnight. These are Country Hills Resort (privately owned) and Grayback Campground (National Forest campground), both located on Highway 46.
Did You Know?

The marble rocks of Oregon Caves were once a tropical reef that was pushed under the continental edge to a depth of 12 miles and then uplifted to 4,000 feet above sea level.