Road Work, Expect Delays

ODOT will be preparing highway 46 for asphalt patching. Please use caution when traveling between the monument and Grayback Campground. Various work will be from continue until July 31, 2014.
Watch for Wildlife

Please be on the lookout for fawns on the section of Caves Highway around Caves Campground! There is at least one very young one that is using the pavement as his transportation corridor.
Haunted Candlelight Tour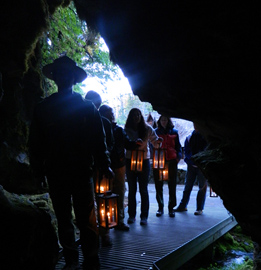 Anita Varnon, NPS
Looking for a Halloween haunt? Throughout the month of October, 2014 you'll get goose-bumps on the Haunted Candlelight tour of the caves as you hear spooky stories of local history; walk amongst the bats and spiders, and discover the lesser known tales of these dark catacombs.
Haunted Candlelight Tours Offered Throughout October, 2014. Please check back this autumn for details.
The Haunted Candlelight tours will be given from throughout October. Children must be over the age of twelve (12) to participate, and those ages 16 and under unaccompanied by an adult must have a parental release form signed on site. The tour is moderately strenuous and not recommended if you have any issues with balancing while walking, respiratory problems, or heart conditions.
Be Aware of What Not to Bring
On this Haunted Candlelight tour, cameras will not be allowed for safety purposes. Also, please do not bring anything worn or used in a cave or mine east of the Rocky Mountains or a cave or mine in Europe. This measure is in place to prevent the spread of the fungus linked to white-nose syndrome, a fatal disease in bats.
Costumes are allowed provided fabric and makeup are not at risk of touching or coming off in the cave (no trailing fabric, fake tails, glitter, loose fringe, etc. - your tour guide will notify you if she has doubts).
Other Important Information
Minimal food service is available by the Natural History Association. The cost is $8.50 per person. Space is limited and not guaranteed. No reservations will be accepted. Please plan accordingly! Also, be aware of winter weather predicted. Tours may be canceled due to road conditions.
Don't miss this rare opportunity to see the haunted cave. Discover, explore, and experience your America!
Did You Know?

The Pileated Woodpecker is the largest North American woodpecker. Funny, mischief making cartoon character Woody Woodpecker, was inspired by this bird. Other birds need this species for survival. They will use the holes or cavities the Pileated drills as nests, winter shelter, and a way to get at food inside trees that is otherwise hidden.