Olympic Hot Springs Road Closed

The Elwha Valley's Olympic Hot Springs Road is closed to public entry beyond the Altair Campground during removal of the Glines Canyon Dam. Olympic Hot Springs is not accessible from the Elwha.
Changes in Winter Activity Schedule Announced

Budget uncertainties lead to changes in visitor services this winter. More »
Weather
Like everything else about Olympic, the weather is extremely variable, from season to season and place to place. Visitors should come prepared for a wide range of conditions. Rain gear and layered clothing are essential.
Overall, the Olympic Peninsula has a moderate marine climate with pleasant summers and mild, wet winters.
Summers tend to be fair and warm, with high temperatures between 65 and 75 degrees F. July, August and September are the driest months, with heavier precipitation during the rest of the year.
While winters are mild at lower elevation, with temperatures in the 30's and 40's, snowfall can be heavy in the mountains, with accumulations of up to 10 feet common.
More on Olympic's climate and weather patterns.
At any time of year, visitors should come prepared for a variety of conditions. The Seattle office of the National Weather Service provides up-to-date weather information and forecasts.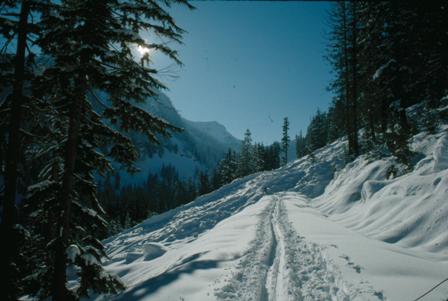 Avalanche conditions can change daily or even hourly during snow season. The Northwest Avalanche Center has current information -- be sure to check it before any ski or snowshoe trip.


Did You Know?

That endemic Olympic snow moles are scurrying beneath this blanket of snow? Olympic National Park's Hurricane Ridge is blanketed with over ten feet of snow for most of the winter, providing water for summer and protection for snow moles in winter.