Spruce Railroad Trail Closed from Lyre River Trailhead to Devil's Punchbowl

The trail will be closed for improvements from the Lyre River TH to approximately 0.25 miles east of Devil's Punchbowl. Work is expected to be completed by the end of October. The remainder of the trail will be accessible from the Camp David Jr. Road TH. More »
Safety Advisory: Mountain Goats

NPS has received reports of aggressive mountain goats near trails at Hurricane Ridge, Royal Basin, Seven Lakes Basin, Lake of the Angeles, & Grand Pass. Visitors are required to maintain a distance of at least 50 yards from all wildlife. More »
Visitor Centers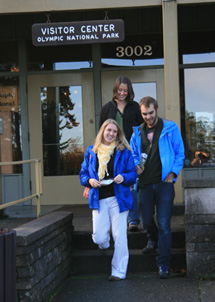 Henry Meyer
Olympic National Park Visitor Center
3002 Mount Angeles Road, Port Angeles, WA 98362
Phone (360) 565-3130
Open daily. Hours vary according to season.
Visitor information, exhibits about Olympic's natural and cultural history, hands-on "Discovery Room" for kids, award-winning orientation film "Mosaic of Diversity" (25 minutes) shown upon request, bookstore, two short nature trails.
Wilderness Information Center (Backcountry Permit Office)
Inside Olympic National Park Visitor Center at 3002 Mount Angeles Road, Port Angeles, WA 98362 Phone: (360) 565-3100.
Open daily. Hours vary according to season.
Information and trip planning advice for all wilderness users, including current trail reports, safety, weather and Leave No Trace tips. Wilderness Camping Permits and "bear canisters" available. Email the Wilderness Information Center or call (360)565-3100.
Hurricane Ridge Visitor Center
Hurricane Ridge, about 17 miles south of Port Angeles
Open daily in summer; open weekends whenever Hurricane Ridge Road is open during remainder of year.
Visitor information, exhibits about Olympic's mountain habitats, 20-minute orientation film shown on request. Guided walks and talks are offered during the summer. Nearby short trails, often snow-covered well into May, are accessible with assistance. Snack bar and gift shop (both open seasonally) are located on the Visitor Center's lower level.
Hoh Rain Forest Visitor Center
Hoh Rain Forest, approximately 31 miles south of Forks off Highway 101
Phone: (360) 374-6925
Open Daily in summer; open Friday-Sunday remainder of year. Hours vary according to season.
Visitor information, exhibits about Olympic's temperate rain forests. Self-guided nature trails; one accessible with some assistance. Wilderness use permits and animal resistant food containers available.


Did You Know?

Fishers (members of the weasel family, related to minks and otters) were reintroduced to Olympic National Park in 2008-10. They are native to the forests of Washington, including the Olympic Peninsula, but disappeared due to overtrapping in the late 1800s/early 1900s and habitat loss.